End Game isn't sure that going back to re-enact operations in 1884 is up our alley, but speculating on who the next health secretary might be is
Ever the social animal, End Game gets invited to an awful lot of events and is rarely short of options for a scintillating few hours of health policy chat and canapés. It therefore takes a lot for an invitation to stand out and get put in our diary, so we were very excited to receive an invite to see the Time Travelling Operating Theatre.
For a long time we've believed the NHS should have its own TARDIS to get through the elective surgery backlog, and we were delighted to be invited along for the ride.
'End Game is quite sure we have another engagement'
Unfortunately, further reading revealed the TTOT isn't an actual time machine. Instead it's an educational project developed by the Imperial College Centre for Engagement and Simulation Science and the Wellcome Trust to re-enact operations from 1884, 1984 and 2004. Trained medical professionals will perform the routines, followed by a panel discussion about the evolution of surgery.
It's unclear if real people are required to help recreate going under the knife in the 1880s, but End Game is quite sure we have another engagement.
'Disgraceful' doodling
End Game was intrigued by these sketches (below) of Labour's new leader and deputy, Jeremy Corbyn and Tom Watson, which were scribbled by Conservative MP Charlotte Leslie during Prime Minister's Questions last week.
Ms Leslie obviously has more time on her hands now that she isn't on the Commons health committee, and has been spending it practising her doodling.
The Corbyn picture is particularly good, although is he supposed to look like he's asleep? The Watson image also shows a sensitive hand but as another amateur art critic said on Twitter, it makes the West Bromwich East MP look like a "ghastly Henry Kissinger-Harold Wilson hybrid beast".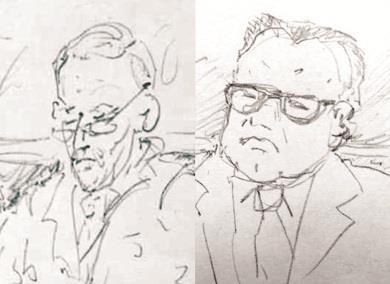 Other observers thought it "disgraceful" that Ms Leslie was "taking her office for granted" and "indulging her hobby" while she was supposed to be paying attention to crucial parliamentary business.
But far more importantly, there is the extremely serious matter of the use of photography in the House of Commons.
Ms Leslie pointed out that she sketched the scene because MPs "can't take photos during PMQs", but End Game's extensive investigation suggests she tweeted photos of her sketch during the session.
She couldn't come up with much of a defence when this was flagged up on social media, simply replying: "Shhhhhhh!"
Say that five times fast
An MP who didn't get distracted last week was Commons health committee newbie Emily Thornberry, who displayed impressive counting skills during the session last week.
She was given the important job of totting up the number of times that Jeremy Hunt said "Mid Staffs" while giving evidence, seemingly to prove his obsession in bringing it up. She pointed out that he said it 12 times in nearly three hours.
'Hunt said "Mid Staffs" 12 times in nearly three hours'
Next time someone should count the number of shout outs the health secretary gives Morecambe Bay.
The committee repeatedly grilled Mr Hunt on his seven day service plans, and he wearily noted how almost every member of the panel had previously worked in the health service. This has its upsides, though, as there will be plenty of help at hand if he has a sudden bout of illness while in Westminster.
When he started choking during the hearing, committee chair Sarah Wollaston assured him not to worry, "there are plenty of doctors in the room".
Rubbish rumours (?)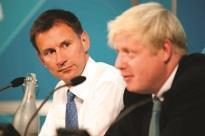 Two very well connected figures have told End Game that Boris Johnson is being lined up as the next health secretary.
This does seem far fetched, we admit, but handily for George Osborne and Theresa May, giving the mop-top mayor the poisoned health chalice could put the brakes on his Conservative leadership ambitions.
It's also worth remembering rumours of Jeremy Hunt getting the job in 2012 were rubbished when they first surfaced. You heard it here first.