'Friendly competition' between three NHS organisations working in 'partnership' and the King's Fund's marvellous toilets get the recognition they deserve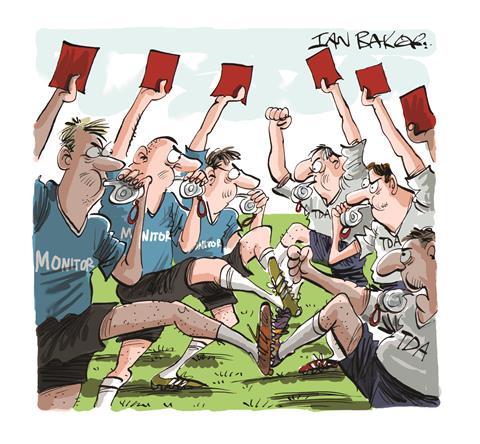 Regulation reaches fever pitch
It may have slipped your attention at the time, but just two months ago several hundred millionaires from across the world met in Brazil to kick a spherical object around.
But such a display was as nothing compared with the clash of sporting titans recently witnessed when Monitor played the NHS Trust Development Authority at football in the first inter-regulator derby.
On hearing this news, the first thought that sprang to End Game's mind was a variant of that eternal question: "who referees the regulators?"
'End Game is heartened by this sudden outbreak of "friendly" competition'
A member of the Monitor team reassured us that a referee had been quite unnecessary because of the "Corinthian spirit of the two organisations" - before reproachfully adding that the TDA had scored one goal through a "brutal nudge".
Foul play or not, it didn't affect the end result, with Monitor triumphing 4-3 against everyone's least favourite regulator.
A contest with the Care Quality Commission now appears to be on the cards, with Monitor pledging to give "Mike's Army" a "thrashing".
Considering the amount of time the three organisations have spent piously harping on about "partnership working" and "alignment" in the last year, End Game is heartened by this sudden outbreak of "friendly" competition.
The call of nature
Anyone who's felt the call of nature while visiting King's Fund HQ in Cavendish Square an attest to its marvellous toilets. So good are the futuristic loos that they almost make a visit to the venerable institution worth it on their own.
End Game was therefore delighted to discover last week that they had finally received the recognition they deserve with a coveted "platinum" award from the British Toilet Association.
Having just published a major report on the future of the health and social care system, this gong capped off a good week for the King's Fund. Or as one Twitter wag observed: they should feel "flushed" with success.
In the name of charity
Two facts:
1. Former NHS England chief executive Sir David Nicholson is a prolific tweeter.
2. The ALS ice bucket challenge is a phenomenon that has swept through social media like wildfire.
Ergo, and with all the unstoppable inevitability of the Earth rotating on its axis, Sir David has become one of the latest wilful victims to be drenched with freezing water in the name of charity.
'Clearly, for Sir David, revenge is a dish best served ice cold'
It's all for a good cause (raising awareness and funds to tackle monitor neurone disease) and watching Sir David gamely laugh as the icy deluge sweeps away his specs is glorious to behold.
End Game was unsurprised by who Sir David nominated to take the challenge next: health secretary Jeremy Hunt and Commons public accounts committee chair Margaret Hodge. Would any ex-public servant worth their salt pass up such a splendid opportunity to get their own back on a former political master and inquisitor?
Clearly, for Sir David, revenge is a dish best served ice cold.