End Game was flattered to receive a job oportunity from the CQC, but we won't be going to Aberdeen for the rave-themed food
Smoking hot offer
End Game is a little weary of the burgeoning trend for every public health campaign, special interest group and foodstuff to want its own day, week or month of the year – but we'll make an exception for Stoptober.
Setting aside a month for sustained efforts to get more people to quit smoking is a laudable endeavour and we wish success to everyone involved in this year's campaign. In particular, we wish success to a brave group of stand-up comedians in the London borough of Enfield. The local authority has indicated it will be encouraging the uptake of council funded cessation classes by giving everyone who attends at least two classes free tickets to a "special" comedy night. End Game is in no doubt that it will be a special event.
We know a gig's a gig but it's hard to imagine a tougher crowd for a working comedian than one entirely comprised of people who have just given up smoking.
In End Game's personal recollections of smoking cessation, spontaneous laughter did not feature prominently, although spontaneous violence was a regular occurrence. Good luck, Enfield comedians.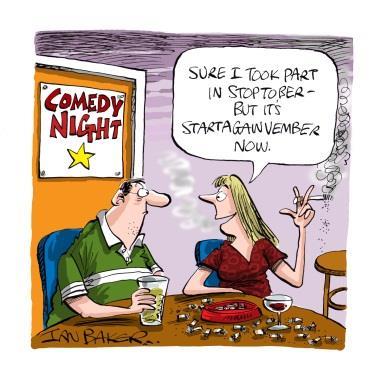 An inspection calls
An email has plopped into End Game's inbox from the Care Quality Commission offering an "exciting" opportunity to join its hospital inspection team.
The CQC, whose staffing difficulties are well known, is advertising two year secondments to people within the NHS.
End Game was sorely tempted to accept this fantastic opportunity to do some undercover reporting on the front line of NHS regulation. Unfortunately we concluded that our trademark trilby hats and threadbare macs would have given us away on the wards. We reluctantly declined to email in our CV.
That's not to say that our impressive contingent of journalists would have ticked all of the regulator's recruitment boxes. According to the email, the CQC is seeking people who have "experience of conflict management". The HSJ news desk is far too serene, convivial and modest to admit to such skills. Still, we're flattered to have been asked.
Grizzly business
Always keen to have the upper hand in PR battles, the British Medical Association appears to have stepped things up a notch – with a group of bears literally embodying that stance.
BMA Wales is offering medical students the chance to win an iPad by tweeting a picture of one of the cuddly grizzlies at their medical school. While End Game is, as always, impressed with publicity stunts, we have one question: why are they all hailing a cab?
The wooden spoon question
End Game appreciates that the NHS is a bewilderingly complex beast, and we understand that sometimes letters go astray. So we won't make a big deal of the fact we were sent a Freedom of Information response from Lewisham Clinical Commissioning Group that was intended for the Labour MP and one-time shadow health minister Diane Abbott. Anyway, since she's a public figure we thought we'd have a read – naturally, in the interests of accountability and public interest. Turns out she had asked the CCG a perfectly sensible question about the services on offer for people with sickle cell and thalassaemia.
We learned there's a sickle cell centre at Wooden Spoon House – sounds like a winner – while the good people of south London are also offered "an opportunistic genetic counselling service".
End Game is glad the CCG was so open about the apparently ad hoc nature of the arrangement but is nevertheless concerned at the thought of people being pounced on by marauding bands of counsellors.
Garish garnish
End Game has been taken aback by pictures of hospital food splashed across last week's newspapers and taken by patients unhappy at the unappealing meals they were given.
One picture of note was snapped by a patient being treated for Crohn's disease at Aberdeen Royal Infirmary. It appears to show a serving of white fish and vegetables, topped with what can only be described as fluorescent cheese sauce.
While the garish garnish has been shunned by discerning patients, End Game has a practical suggestion.
With the end of summer approaching, and days that are getting shorter as the sun goes down earlier, why don't hospital authorities apply the shiny substance to signs around the hospital sites? Think of the savings on electricity bills.