Devolution takes a turn for the spiritual as finger pointing in the NHS reaches a hysterical high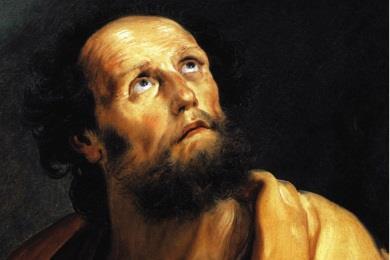 End Game chortled knowingly during NHS England's September board meeting when an otherwise stupefying discussion about devolution took an unexpected turn for the spiritual. Non-executive director David Roberts informed the room – and the "massive audiences around the world" following events on the webcam (described with tongue in cheek by chair Sir Malcolm Grant) – that an old boss of his once wisely said: "To those whom much is given, much is expected."
"We've just discovered that one of David's ex-bosses was Saint Luke," said Simon Stevens – he should recognise the biblical quote as he's often described as the NHS's messiah, but jolly good on him for spelling it out for those with inferior knowledge of the scriptures.
'To those whom much is given, much is expected'
What the NHS England chief executive neglected to say was that the following verse runs: "I came to send a fire on the earth, and it may even now have been lighted," which could be translated into Latin and used as a motto for the new care models team.
The same chapter includes a line that encapsulates all that is wrong with our regulatory system: "The servant who had knowledge of his Lord's desires and was not ready for him and did not do as he was ordered, will be given a great number of blows."
Just ask former Cambridge University Hospitals Foundation Trust boss Keith McNeill.
As special as it gets
Finger pointing in the health service is at a hysterical high right now after two trusts were placed in special measures last month.
Some commentators said Cambridge University Hospitals had been unfairly tarnished with the special measures brush, while Care Quality Commission chief inspector of adult social care Andrea Sutcliffe retorted: "To criticise that by suggesting the CQC is some part of a conspiracy to undermine the NHS is to do a disservice to the people using Addenbrooke's or any other service", in a blog post titled "Shooting the messenger".
For some reason East Sussex Healthcare Trust, the other recent entrant into special measures, didn't get a mention.
A spat has also broken out between Leeds and York Partnership FT and its commissioners, Vale of York Clinical Commissioning Group after the mental health trust was ordered to close Bootham Park Hospital following a CQC inspection which raised safety concerns.
'At least it's agreed there's a problem'
End Game is used to press statements from commissioners bending over backwards to show how eager they are to help their local struggling trust. Not so Vale of York, which said: "The CQC's recommendations and the actions to address the issues identified are solely the responsibility of the trust."
We're not all in it together in York it seems.
The trust gave as good as it got, stating that it had raised "serious concerns" with the CQC about "repeated delays to the interim improvements to Bootham Park managed by the Vale of York CCG and NHS Property Services".
At least it's agreed there's a problem, although whose job it is to sort it out is still being argued over.
The feel good factor
Macmillan's publicity team is excellent at orchestrating big, feel good, happy clappy events which take over Twitter for seemingly months at a time. This time, our screens were filled with tweeters posting pictures of people looking all pleased with themselves standing next to an assortment of scrummy looking cakes, which the cancer charity had encouraged people to bring into work and sell to raise money as part of the "World's Biggest Coffee Morning".
Staff at NHS England's Skipton House headquarters participated, in clear defiance of boss Mr Stevens' healthy workplace shtick.
'Staff participated in defiance of Mr Stevens' healthy workplace shtick'
Full disclosure: HSJ's parent company also took part. We had a chocolate cookie and a couple of slices of a very moist Victoria sponge, all of which were delightful, but spoilt our lunch.
End Game wonders what another charity, Diabetes UK, would make of all this? Perhaps it might like to organise a retaliatory "Big Smoke Off" to bring in some cash at the expense of other worthy causes?