Beware the TDA's butter finger staff and the big bad cat terrorising a London GP practice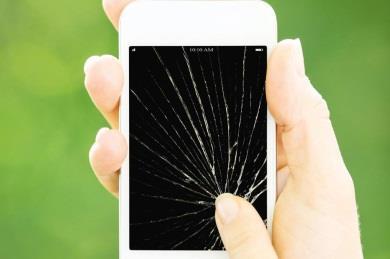 No one is suggesting the NHS Trust Development Authority is not a safe pair of hands. It's just that its staff seem unusually butter fingered when handling expensive communications equipment.
A Freedom of Information Act request from HSJ merely enquired what the £12,000 in "losses and special payments" in the body's 2014-15 accounts consisted of.
What we uncovered will shock you (if you find damage to mobile devices difficult to hear about).
While £5,000 of the total was settling a clinical negligence case at the now defunct South London Healthcare Trust, the rest was accounted for by dropped and smashed smart phones, and lost or mislaid iPads.
'Gravity seems to be an especial hazard to the authority's communication devices'
To be fair, some of the damage to TDA hardware sounded pretty severe. The authority reported one "iPhone 5C stopped working due to loss of PIN numbers".
Another £390 had to be written off because of a "damaged" iPad – the "mute icon permantely [sic] displayed on the screen". Clearly irrepairable.
Gravity seems to be an especial hazard to the authority's communications devices. Two iPhone 4s, an unidentified item and a humble Blackberry all fell victim to being dropped or, in one case, "knocked out of hand" landing, alas, "on a concrete floor".
With such incidents causing a total loss to the authority of £1,095, End Game was surprised not to see concrete floors on its risk register.
Cool cat
Patients at a London GP surgery are being informed that they face a scary and unpredictable threat in the waiting area.
According to reports on Twitter, an unidentified Lewisham practice has put up notices about a cat that refuses to be shooed away.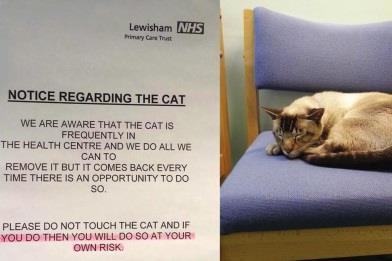 End Game can just imagine the exasperation felt by the person who wrote in the notice. It goes: "We are aware that the cat is frequently in the health centre and we do all we can to remove it but it comes back every time there is an opportunity to do so."
'It comes back every time there is an opportunity to do so'
However, as a devoted cat lover (dogs can jog on with their love and attention), End Game was rather upset with the subsequent warning (underlined in bright pink pen): "Please do not touch the cat and if you do then you will do so at your own risk."
Maybe the surgery should embrace the cat, rather than treating it like a hot tin roof. They could even start offering pet therapy.
Find the defibrillator
End Game is a big supporter of autumnal public health campaigns with puns in their name, which is why we're right behind Go Sober For October (where you try to give up booze for a month) and Stoptober (where you try to give up smoking forever).
But we had not heard of "Shoctober" before.
This new wheeze comes from North West Ambulance Service Trust, to make the public more aware of the location of their nearest defibrillator, and find forgotten machines, so people suffering cardiac arrest can be taken quickly to a device.
'It has even had pics from Florida, Hong Kong, Spain and Holland'
When you spot one of the potential lifesavers, the trust wants you to take a selfie with it and post it online with the hashtag "#findthedefib". The people of the NorthWest have been happy to oblige, taking snaps in churches, sports halls, shops and schools – the trust said the early success of the campaign had sent its social media sites "into meltdown".
It has even had pics from Florida, Hong Kong, Spain and Holland, which all seem rather outside North West Ambulance's catchment area.
Its press release also chirped: "We have noticed that we haven't received any selfies from any journalists with their newsroom defibrillators as yet, so why not be the first one to rise to the challenge!"
End Game won't be able to join in as we aren't allowed a kettle in the newsroom, let alone a defibrillator. Also, we're not taking any selfies until we've grown our Movember moustache.