The Commons' sense prevails, but then a trust chair decides to stand for UKIP
Whenever the Commons health committee meets, End Game focuses all of its attention on humming loudly while David Tredinnick is talking.
Last week's hearing on winter pressures proved no exception, although we could not help but overhear the alternative medicines enthusiast asking NHS England's medical director, Sir Bruce Keogh, whether homeopathic flu remedies could be the key to solving the accident and emergency crisis.
Sir Bruce promised to "look into it", while managing to keep a straight face. In fact, pretty much everyone responding to Mr Tredinnick keeps a straight face.
'Is this the first time the committee has challenged Mr Tredinnick's eccentricities?'
Do those preparing to give evidence practise by getting an actor to blather in front of them about the medical uses of astrology?
Then, suddenly, something wonderful happened: committee chair Sarah Wollaston declared the rest of the committee thought homeopathy was nonsense.
Hurrah. Is this the first time the committee has challenged Mr Tredinnick's eccentricities? If so, then perhaps this is a turning point and his reign of hogwash is coming to an end.
The health committee chair post will be up for grabs after the next election in May, but you already have our vote, Dr Wollaston.
Luder awakening
It is often said that MPs should "keep politics out of the NHS" – not least by themselves – though that seems unlikely with a general election just four months away.
At least one senior leader in the NHS has decided to take that mantra literally. Ian Luder resigned as chair of Basildon and Thurrock University Hospitals Foundation Trust last week to run for UKIP in South Basildon and East Thurrock in Essex.
Two and a half years at a trust that went through special measures is probably good preparation for the cut and thrust of an election campaign.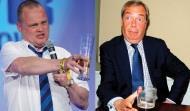 Meanwhile, Mr Luder's party leader faces a tough new opponent to win the seat for South Thanet: comedian Al Murray, who is running for the Free United Kingdom Party in the guise of "the pub landlord".
He declared his intention last week to run against Nigel Farage in the Kent constituency with a 13 point "common sense action plan to save the country" that could worry the big talking ale swiller.
Mr Landlord's health policy is as uncompromising as you might expect from a shouty man holding a pint: "If you come to A&E and it's neither an accident nor an emergency, then you'll be sent to a random hospital department to be practised on."
Or is that a line from the draft UKIP manifesto?
Fit and proper persons
End Game loves a bit of nominative determinism: the theory that your name has a bearing on what you end up doing for a living. In the course of its recent investigations, End Game has seen two examples in the health service.
Now a consultant with Deloitte, Olivia Crooks previously worked in NHS counter-fraud services, while the Royal Marsden Hospital's head of risk management is one Kate Rumble.

Parliamentary lambasting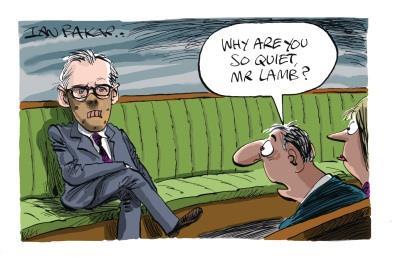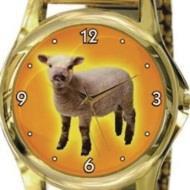 As the general election approaches, the gloves are off when it comes to politicians, and even the mild mannered care minister Norman Lamb is taking a bashing. @LambWatchUK (see logo, left) is a Twitter account dedicated to "exposing the two faced nature of Norman Lamb and the Lib Dems".
A recent tweet derided Mr Lamb for keeping quiet during a recent Commons health debate with the early 1990s referencing witticism "silence of the Lamb".