Familiar supermarket technology can make surgery safer for patients and make sure trusts do not lose essential items, writes Chris Doyle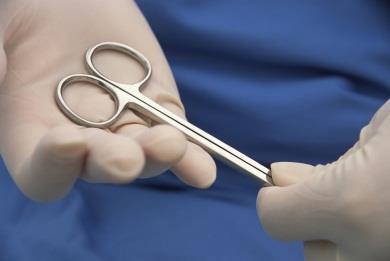 This article was part of the eProcurement channel, in association GS1. The channel is no longer being updated.
Jeremy Hunt's "Sign Up to Safety" campaign, launched in March, aims to encourage NHS trusts to draw up plans for halving 'avoidable harm' such as medication errors, blood clots and bed sores by 2016-17.
Some of the types of avoidable harm can be greatly reduced through the standardisation of systems used to ensure that instruments, devices and materials used during operations are properly accounted for before, during and after every operation.
In short, the items and instruments used in operating theatres should be counted before the procedure and accounted for at the end of the procedure. This process can be very time consuming and is clearly prone to human error. The use of automated systems could have an important role to play.
GS1 standard technologies such as barcoding are already mandated by NHS England to improve procurement efficiency and reduce costs; the use of these same technologies in operating theatres could also help to improve patient safety.
Adaptable technology
Most people are familiar with automated checkouts in supermarkets and the warning "unexpected item in the bagging area". The technology that enables the till to know where each item is and whether it has been properly accounted for can also be applied to theatre environments.
Simple barcoding can make counting items faster and more accurate; the addition of electronic tagging of items, such as surgical instruments, can make counts instant and automatic – improving efficiency and safety in the operating theatre.
Widespread implementation of GS1 standards has the potential to improve patient safety, reduce cost and improve efficiency in the delivery of healthcare.
We look forward to working with hospitals and technology partners to implement systems which will deliver these benefits and boost the efficacy of campaigns such as Sign Up to Safety.
Chris Doyle is an industry marketing manager at GS1 UK