Some acute hospitals provide a third less nursing care per occupied bed day than their peers, HSJ analysis suggests.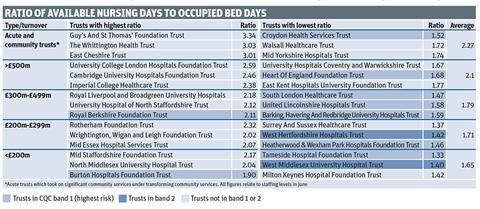 The disparity has emerged amid predictions many trusts must expand their nursing workforce to comply with new staffing guidance. It was unveiled by the chief nursing officer for England and NHS National Quality Board last week in the government's response to the Francis report.
Although no mandatory minimum staffing level was imposed, trusts must conduct the first of regular six-monthly reviews of staffing − to be made public and monitored by the Care Quality Commission − by June next year.
The new guidance also requires trusts to factor in unplanned leave, such as sickness and maternity, as well as study leave, when calculating staffing establishment. The Audit Commission has previously recommended trusts set aside 8 per cent of contracted hours to account for this, but it is understood many have not.
There is no official estimate of how many extra nurses will be needed to meet the requirements and the Department of Health has not produced an impact assessment of the potential cost.
However, data shared with HSJ by Methods Insight Analytics shows significant variation in the ratio of available nurse staff days to occupied bed days at acute trusts, giving an indication of the potential scale of the shortfall in nursing provision.
Even accounting for trusts size and whether they provide significant community services, some organisations had a third less full-time equivalent nurses than their counterparts, according to the data, based on staff levels in June.
The ratio among acute trusts varies from 1.33 at Tameside Hospital Foundation Trust to 2.59 at University College London Hospitals Foundation Trust. Among trusts that provide acute and community services, the ratio ranges from 1.52 at Croydon Health Services to 3.34 at Guy's and St Thomas' (see table, above).
The data should be treated with caution as it includes nurses who do not work in patient-facing roles anddoes not account for day case work. However, it is notable that Croydon and Tameside have been subject to public scrutiny due to concerns about quality and are planning to increase their nurse workforce.
In total, seven of the 10 acute trusts with the lowest ratios are among those in bands 1 and 2 − indicating the highest risk − in the CQC's new intelligent monitoring system.
Senior figures in the acute sector predicted complying with the guidance would lead most trusts to increase their staffing levels, with widespread concern about the sustainability of any workforce expansion due to cost.
Nottingham University Hospitals Trust chief executive Peter Homa said the existing "national shortage of nurses" meant his trust planned to recruit overseas.
"It's going to be a huge challenge in terms of reconciling the quite proper requirement that nurse and other staffing levels are appropriate and at the same time balancing the books," he said. "The only solution is real redesign of services."
A recent investigation by HSJ's sister title Nursing Times found acute trusts increased their nursing establishment in 2012-13 by at least 4,321 full-time equivalent staff. Health Education England last week revealed trusts were planning to employ an additional 3,700 nurses this financial year.
Assuming the new posts are on Agenda for Change band 5, the lowest band on which nurses are employed, this will increase pay spend by £320m, when annual efficiency savings of at least 4 per cent are required.
HSJ analysis suggests that to bring trusts with lower ratios up to the average staffing for hospitals of their size and type, an additional 16,590 nurses would be required, at an annual salary cost of £663m. However, this projection does not account for varying acuity and dependency of patients - key factors when determining appropriate staffing at ward level or the varying case mixes of organisations.
NHS Employers chief executive Dean Royles told HSJ the NHS had to acknowledge it would get no additional funding.
He said: "The danger is organisations [boost] nurse staffing levels at the expense of other staff groups like allied health professionals, scientists and support staff that are equally crucial to patient care. Beware the law of unintended consequences."
Nuffield Trust director of policy Judith Smith urged "careful costing" of the guidance and warned of a growing tension between maintaining financial balance and delivering high-quality services.
She pointed to Monitor's recent analysis of foundation trust plans - which reported a 2 per cent increase in numbers of full-time equivalent nurses in 2013-14 followed by a projected 4 per cent reduction over the subsequent two years - as evidence that the current increases could be unsustainable.
A DH spokesman said ensuring there were "enough nurses on the wards" would "save money in future through increasingly safer care".
Ruth May, NHS England director of nursing for Midlands and the East, led the development of the new guidance. She said increasing establishment need not increase costs if it reduced the use of agency staff.