A leaked Department of Health document shows for the first time where commissioning staff could move to in the restructured NHS – however it also reveals confusion over the fate of thousands of jobs.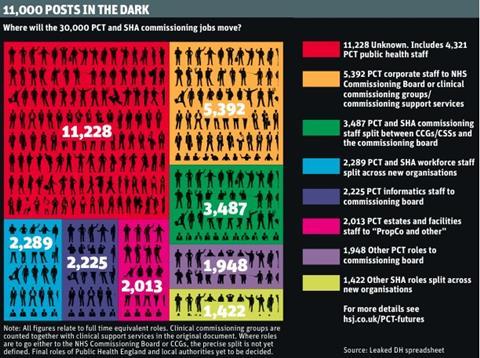 Meanwhile, primary care trust directors are being briefed to consult with staff despite no clear answers being available about their future employment.
The DH paper, obtained by HSJ, reveals the full breadth of functions to be taken over by the NHS Commissioning Board and shows how the process of transferring commissioning functions to new organisations is progressing.
The document, circulated to senior officials on 21 December, shows where each commissioning function is likely to be relocated from PCTs, strategic health authorities, the DH and arm's length bodies.
The destination of many core functions, particularly those in PCTs, remains unknown. Among the roles marked in the document as "no organisation claiming function" are: "commissioning acute services"; "commissioning community services"; "commissioning mental health services and learning disabilities services" and "joint commissioning with local authorities".
HSJ analysis of the document shows that of more than 30,000 full-time equivalent commissioning posts in PCTs and SHAs, 11,228 have no clear destination proposed.
More than 2,000 estates staff are earmarked to move to "PropCo and other", suggesting a property company could be set up or contracted to manage former PCT buildings.
The spreadsheet also shows that the DH is still unclear how public health roles will be split between Public Health England and councils. There is no confirmation that any PCT functions will be taken over by PHE, although it has been assigned roles from the DH and SHAs.
The document does not differentiate between functions to be carried out by clinical commissioning groups and those to be bought from commissioning support services.
The NHS Commissioning Board is set to be involved with as many as 180 separate commissioning functions. The majority will be divided between the board and other organisations and could also be carried out at local and national level.
In an accompanying letter the DH admitted "there are gaps and conflicts [in mapping the functions] that need to be resolved". It said officials were working with organisations that will employ transferred staff "to urgently address" these problems.
A DH spokesman said: "This document is not about jobs. It is part of ongoing work to ensure functions are in the right place in the future."
Natasha Curry, senior fellow in health policy at the Nuffield Trust, said: "This shows how much thinking there is still to do – there are still so many question marks. As a PCT making decisions about which staff to keep and who to send where, based on this, I don't know where I would start."
She said forward planning remained "incredibly difficult" as new organisations still did not have clear remits confirmed.
The extent of the uncertainty was underlined by a briefing document for managers drawn up by one PCT cluster, also seen by HSJ. It included a suggested script for managers to use in meetings with staff.
The text said meetings with employees would be conducted this month, but that there would be no clear answers to many of their questions. There is currently "no clarity" about the transfer of functions to new organisations, it said.
Managers in Partnership chief executive Jon Restell said: "The challenge is how do you keep people motivated and frankly in post while you're still working out what functions you need, where they'll go, how much you're prepared to pay for them and so on. That's a major problem."
Mr Restell added that managers should be constantly talking to staff. "There's a sense that the game is being played out of their sight – some might need reassurance that decisions really haven't been taken yet."