What NHS England isn't telling you, and more indispensable weekly insight for commissioners, by Dave West.
The punchiest argument for GP modernisation I've heard lately drew a comparison with the highly emotive Brexit debate: the incumbent GP partners who are clasping to outdated ways of working, contracts and premises are GP land's leave voters – older generations wielding their strength in numbers, influence and resources to try to preserve the past. Fighting off a more collaborative future, they are defying trends in technology, economics and demographics. The younger generation (GP land's remain voters) are losing out in the meantime – in GP terms they are turned off by the long stay, long hours GP partnership role that grips the sector and holds them back.
Law and order
NHS England's primary care director Arvind Madan (also a founder of London's Hurley Group and Hurley Innovations) used a different but still provocative analogy in explaining the implications of the Next Steps document for general practice, describing the current landscape as the "wild west", which suggests there's an urgent need to impose law and order.
Taking Dr Madan at his word, there is a pretty bold intention within Next Steps. There will be a rapid spread of "universal", consistent GP networks or "hubs", to cover half England in a year and 100 per cent in two years. They must be at least 30,000 in population coverage, usually ranging up to 50,000 but with a likely maximum of about 100,000.
There is something powerful and ominous about the expanding bureaucracy imposing "uniformity" and comprehensiveness over the current ragtag gangs of natives and outlaws. It would create a coherent patchwork of GP groups very useful for phasing out clinical commissioning groups.
Those who corralled practices into 211 CCGs five years ago will tell you that agreeing borders in the new territories will be no mean feat. Very many practices still operate as proud, independent (but struggling) islands and, as demonstrated in the latest analysis by our primary care reporter Rebecca Thomas, most existing GP federations don't fit the new mould.
No cavalry
In reality, there will be a flexible approach to this process.
No minister will be riding over the horizon with cavalry ready to tear up the independent partner contract, nor with the necessary cash to buy off providers en masse. There could be a new negotiated "child of QOF", replacing the current targets with incentives to work together, but this is not a given.
Next Steps confirms there will be no aggressive expansion of the purist multispecialty community provider and primary and acute care systems models beyond the current settlements.
It leaves the NHS relying on an incremental approach to winning the west.
The document stresses (the authors allowing themselves an underline here) that "the model does not require practice mergers or closures" and is agnostic on organisational form.
Roughly speaking, large scale GP groups fall along a continuum of increasingly tight links. Here's my attempt at a diagram – many of the new hubs/networks will be firmly on the left of it: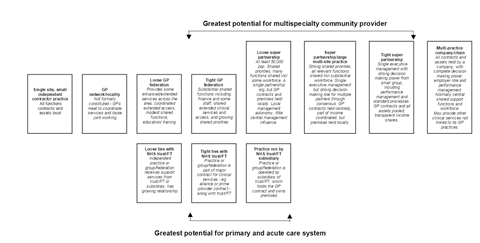 On size, NHS England has a clear preference, as do many others working on this (neighbourhood GP localities of around 30,000-100,000 feature in several sustainability and transformation proposals and many older integration strategies too).
It does mean large federations should re-examine their purpose and in some cases wind down, but the policy approach will not be a strict one size fits all. Policymakers have no desire to wipe out large, successful pioneers like Our Health Partnership, Modality and Lakeside Healthcare.
The Next Steps vision suggests units of different size co-existing and interacting, from individual surgeries suited to continuity of care (which is arguably compromised in some large scale models), up to 1 million population accountable care systems. Here's another attempt at a diagram: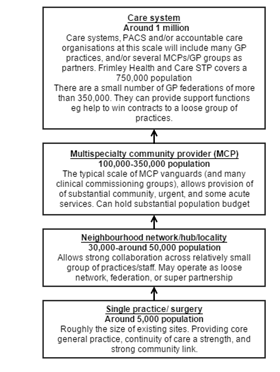 Functionalism
But combining a flexible, light touch approach with a target for comprehensive coverage means there's a high risk of sinking to the lowest common denominator. Hundreds of new GP "networks" may be signed up in name, but without committing to do very much together, without changing how they work – replicating the curse of too many existing GP federations.
NHS England's focus on function as the early driving force (like the European project, arguably) might help. With emergency care pressure front of mind, it will begin by identifying and funding groups for extended access. To make collaboration more than skin deep, networks may want to rapidly show other fruits of joint working – NHS England's high impact actions give some off the shelf options.
Some will have potential to go further: Where there is appetite they should be pushed along into more adventurous joint service and workforce projects, and to become more tightly bound federations, super partnerships and MCPs.
But the west wasn't won in two years, Brexit won't be sorted in two years, and neither will general practice.