Your essential update on the week in health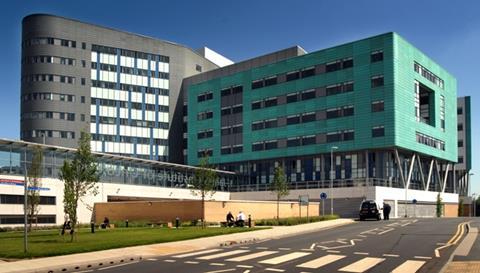 Leeds Teaching Hospital NHS Trust has £180m of estate that is "deemed beyond economic repair"
Trusts borrow millions to pay for redundancies and beds
The independent trust financing facility, back when it was called the foundation trust finance facility, was (nominally) the arm's length part of the Department of Health that assessed requests for capital money from FTs, which were (nominally) independent of the DH, which also assessed similar requests from non-FTs.
But the committee that once approved money for a new scanner or car park is now making the decision on whether a trust can have a £100m revenue bailout. Loans and bailouts by the ITFF, detailed in papers released by the DH, include: a trust borrowing £8m to make redundancy payments; two London trusts requesting more than £100m each in bailout and capital loans to increase bed base; and the collapse of a district general hospital's "unaffordable" merger leaving the trust with difficulties recruiting clinicians.
More trusts link up
The Royal Free has formed links with two more trusts – North Middlesex and West Hertfordshire. Meanwhile struggling West Herts is exploring buddying with the Royal Free, and one of the Royal Free's directors has taken over as West Herts' chief executive. Keep your eye on all this – the Royal Free got £8m in transformation funding for 2016-17, which is a serious vote of confidence from the centre.
Meanwhile, Salford's chain will have two tiers of membership: "full integrated members" and "associates". Reading between the lines, the former are Salford and Pennine Acute Hospitals Trust. The latter are trusts such as Wrightington, Wigan and Leigh, or Bolton. Lawrence Dunhill reports: "Sir David [Dalton, Salford chief] hopes that associate members would become full members over time, partly because this is considered potentially more attractive to NHS England."
In neighbouring Manchester, the opportunity to set up another chain out of Central Manchester and South Manchester foundation trusts may be passed over.
Nottingham will not take up Sherwood's PFI costs
Nottingham University Hospitals chief executive Peter Homa told HSJ on Wednesday that the trust will not take on the future PFI costs of Sherwood Forest Hospitals Foundation trust when the organisations merge.
In a shrewd move, Mr Homa said NUH had made it a requirement of the merger that the PFI costs were not shifted to the trust's balance book.
Considering the £302m contract, signed in 2005, will last until 2043 and cost a total of £2.5bn, few could argue with Mr Homa's stance.
Mr Homa told us: "One of the challenges that Sherwood Forest has, and I am confident we will address, is the complete discontinuity within senior management and leadership. It has had seven chief executives in five years and multiple changes at board and chair level. We will bring some considerable experience and local knowledge to bear as far as that is concerned."
Portsmouth's emergency services rated 'inadequate'
Portsmouth Hospitals' urgent and emergency services have been rated inadequate following unannounced CQC inspections, which found a number of serious performance problems.
Inspectors visiting the trust in February and March found patients waiting on trolleys in corridors, frequent moving of patients at night and patients being treated in a parked "jumbulance" – a super-sized ambulance.
Chief executive Tim Powell said: "We recognise the picture painted by the CQC in this report and we are very sorry that we have failed to provide to our patients, on a consistent basis, the high standards of care that we expect of ourselves."
'Providers are fed up with being kicked'
Sometimes HSJ can't put it better than our readers do in the comments section beneath a story.
That might well be the case with Monday's announcement from the CQC: "North Middlesex chief executive told to improve services in emergency department".
Do they think trust boss Julie Lowe was unaware of the A&E performance? Or wasn't working to sort it out?
As North Middlesex pointed out in its statement, there are more obvious causes too – a real difficulty in getting hold of even half the required senior and middle grade medics for A&E.
One HSJ reader said: "It's not just the CQC, and it's certainly not just North Middlesex. Providers are fed up with being kicked about things that, in and of themselves, they can do almost nothing about – workforce, demand, costs… It is either burying good people up to their necks, or forcing them out altogether."
Of course, organisations with problems will be tempted to say it's not their fault, but hopefully the CQC swinging back to "light touch" regulation will mean providers feel a little less beaten up.
NHS and EU relationship on unstable ground?
The NHS was again at the forefront of the EU referendum campaign on Thursday, as Commons health committe chair Sarah Wollaston declared she would be voting for the UK to remain in the union.
The Conservative MP and former GP had previously been on the Vote Leave side, but switched – saying the claim from Brexiteers that leaving the EU would free up £350m a week for the NHS "simply isn't true".
HSJ has published a number of articles in recent months by experts examing what being in the EU – or not – means for competition in the NHS, its funding, and the effect of migration on staffing and services.
The latest comes from Lord Darzi, Professor Elias Mossialos and their colleagues at Imperial College and the London School of Economics.
They cut to the quick and answer five of the most important questions about the relationship between the NHS and the EU.
Every CQC trust rating mapped
The Care Quality Commission is within touching distance of completing its inspection process for every non-specialist acute trust in the country – concluding an exercise that began in September 2013. While all hospital trusts have now been inspected, around 20 are still waiting for their report and ratings to be published.
To mark the occasion, HSJ has mapped and analysed every inspection rating the CQC has handed out to NHS trusts across the country so far, so our analysis gives the most comprehensive view of care quality across the country to date.
Some of the most notable observations are that more than half of trusts require improvement, while no trust has been rated outstanding for safety or inadequate for caring.
Newcastle rated 'outstanding'
On same day the CQC was giving North Middlesex its orders (see above), the regulator rated Newcastle upon Tyne Hospitals Foundation Trust outstanding.
The is the first teaching hospital to receive the coveted top rating.
The trust is led by Sir Leonard Fenwick, the longest serving chief executive in the NHS, who has ruled the roost at Newcastle for 38 years.
In an interview with HSJ last year, Sir Leonard said the development of a "regulation industry" in the NHS had been "exponential", and that it was "intrusive" and occasionally "unforgiving".
But judging from the CQC's inspection report, this chief executive doesn't have too much to worry about from "the ringside commentators".