New response time targets mean ambulance trusts require more staff and vehicles
Trusts have sought millions of pounds of extra funding from commissioners
Independent reviews commissioned to help determine future demand and costs
Ambulance trusts are seeking tens of millions of pounds in additional funding to meet new response targets and to cope with increasing demand, HSJ has learned.
A number of trusts have told commissioners they need to spend millions on extra staff and ambulances if they are to meet response time targets. These include both average response times for the most serious incidents and standards for the top 90 per cent of responses, which trusts say is making them particularly challenging to meet.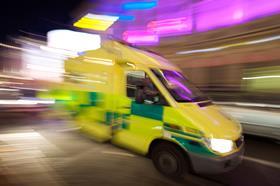 Ambulance services are also seeing an increasing number of calls and are expected to take patients to the "right" hospital rather than the nearest, leading to longer journeys.
East Midlands Ambulance Service Trust is seeking an extra £20m a year on a phased basis from commissioners without which it does not expect to meet national standards.
Chief executive Richard Henderson said: "Despite the efficiencies made at EMAS there is a fundamental gap between the resources we need and the funding we presently receive. This is demonstrated by national benchmarking undertaken by the National Audit Office, and a formal review undertaken jointly with commissioners. These resources are essential if we are to meet the present requirements of our population, as well as remain responsive to the continuing growth in demand."
South West Ambulance Service Trust is working on a joint transition plan with commissioners to meet the ambulance response programme targets introduced nationally in October last year. The trust said this was likely to cost the trust £12m and require 241 extra full-time staff.
South East Coast Ambulance Service Foundation Trust and its clinical commissioning groups have jointly commissioned a demand and capacity review. The trust said this would give "an improved understanding of resource requirements" needed to deliver ARP standards on a sustainable basis.
The trust would not say how much is involved but recent board papers suggest it would need to recruit 400 paramedics to deliver ARP standards.
Based on a paramedic in the middle of band six under Agenda for Change and including employers' national insurance and pension contributions, the likely cost for 400 paramedics would be between £16m and £20m a year from 2018-19. However, unsocial hours payments could push this higher.
North East Ambulance Service FT said it wants funding to recruit an additional 100 paramedics to enable it to meet more of the ARP targets but would not put a figure on what it required.
Again, using a mid-point band six paramedic and employer costs 100 paramedics could require £4m a year funding.
East of England Ambulance Service Trust is also waiting for an independent review to give a clear view of current capacity and future needs.
In a statement it said: "An independent review of what we need to achieve all of the response standards has been carried out to identify how we will meet these targets in the future.
"This recognised that to get to a position that will enable us to provide the best patient care and achieve the new targets, we need to recruit a further 100 paramedics and make a number of efficiencies."
Last financial year, commissioners gave additional funding to recruit 42 paramedics and the trust said "positive discussions" were ongoing about more funding. NEAS is currently the only service to achieve the average seven minute target for category one calls.
South Central Ambulance Service FT and West Midlands Ambulance Service FT are not currently seeking additional funding. Yorkshire Ambulance Service Trust has secured additional funding to meet an increase in demand and North West Ambulance Service FT said: "The demand and pressures upon ambulance services are well known and so it is absolutely normal for providers and commissioners to review the resources available in light of this."