Two NHS trusts close to agreeing new builders for PF2 hospitals
Deals sought after collapse of construction company Carillion in January
Canadian firm pulls out of talks to take on facilities management services
Construction on a long awaited PF2 hospital held up by the collapse of Carillion could resume next month, HSJ has been told.
Toby Lewis, chief executive of Sandwell and West Birmingham Foundation Trust, said "good progress" was being made on work to find a new builder for the £350m Midland Metropolitan Hospital.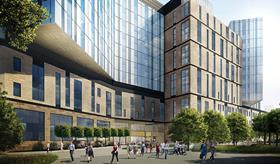 He said construction staff could be onsite by "April or May" but no deal has yet been agreed.
Mr Lewis declined to say which construction company would take on the work. However, Construction News has reported that Skanska and Kier are the two remaining contractors in the frame.
But the hospital may not be finished until 2020, Mr Lewis said. Its opening was initially planned for October 2018 but a third of the work remains to be done.
The delay means extra costs for the project will be incurred, which must be met by the trust's private finance initiative provider, the Hospital Company (Sandwell).
Mr Lewis said the "local NHS" should not be expected to provide additional funding.
Earlier this month PwC, which is acting on behalf of the Official Receiver, announced the redundancies of around 30 former Carillion staff who were working on the hospital.
Mr Lewis said PwC had considered those staff "non-essential" to the project.
Twenty five staff remain who have been judged as "essential" to the completion of the hospital. The intention is to transfer these staff to the incoming contractor, Mr Lewis said.
The Hospital Company (Sandwell) will be responsible for finding a new provider of facilities management services at the hospital but will need permission from the trust before agreeing terms with a company.
Asked about the possibility of the trust hiring facilities management staff and the service being provided inhouse, Mr Lewis said: "All options are being considered but we wouldn't expect to change the private finance structure of the existing loan."
The Royal Liverpool and Broadgreen University Hospital Trust, which also had a new hospital being built by Carillion, said it was in "advanced talks" with a contractor to finish its construction.
The £335m hospital is already delayed by a year and construction was previously held up when builders found cracks in beams and asbestos onsite.
Construction News last week reported the trust was in discussion with Laing O'Rourke but this has not been confirmed by the trust.
The trust was also among the trusts whose facilities management services were affected by Carillion's demise.
Contracts for these services were set to be taken up by Canadian firm BGIS. However, the company pulled out of talks last week due to "certain closing conditions not being met".
Five other trusts are in discussions with Serco and PwC over contracts for their facilities management services.
Source
Information obtained by HSJ; Construction News