Lord Carter suggests NHS acute and community trusts should be integrated
Claims integrated trusts are more efficient and can "discharge seamlessly"
Review evidence suggests community hospitals with small inpatient wards are inefficient
Competition within community services sector has produced "significant benefits"
NHS productivity tsar Lord Carter has said integration of acute and community trusts would improve efficiency.
In an exclusive interview with HSJ, Lord Carter also argued community hospitals with small inpatient wards were inefficient and claimed competition has had "significant benefits" for the sector.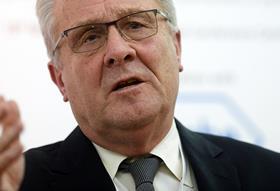 His comments come ahead of the publication of his long awaited report into community and mental health trusts, which is expected later today.
On the integration of acute and community providers, Lord Carter said: "In many instances we've seen acute and community combine to deliver really good services because they are inherently more joined up. I think this is something that needs more attention."
Asked if integrated trusts are more efficient, he said: "My general sense is yes… there are savings in back office and those sorts of things, but the real thing is where you can discharge seamlessly down the care pathway. If you've got an integrated system, the chances you've got of making that flow through [better] are much greater. If there isn't integration between acute and community then integrated care is more challenging."
He acknowledged integration could be achieved "contractually" but argued examples such as the integrated system operating in Northumbria provided more "seamless" services.
However, he added there would be instances where it would not be appropriate for acute and community providers to integrate, for example where they were not "geographically contiguous".
Lord Carter also said community hospitals should "not be used as a warehouse" for medically fit patients the service was struggling to discharge. He claimed hospitals with small inpatient wards of 10 beds or less were inefficient.
He said: "Some small inpatient community hospitals are costing £100,000 per [inpatient] bed a year. Ten beds or smaller is inefficient. It is the overnight costs; when you need staff for 12 hour shifts, the costs are massive… if you can't really get up to 30 beds you have to question [the logic of providing inpatient services]."
The Labour peer said community hospitals that provide inpatient beds would need to look at scale "otherwise it becomes not economic and not actually delivering good quality care".
He said he understood why campaigners might want to protect the status of their "war memorial hospitals" but his team "couldn't find a correlation that those community hospitals with inpatient services led to better outcomes [within the local health economy]".
Lord Carter said community hospitals should focus on "interventional treatments" provided through outpatient services.
He also suggested intermediate and stepdown care should be provided within the community and not by acute hospitals. "In England, the average length of stay in an acute hospital is seven days, whereas in Denmark, which has well advanced stepdown provision, it's 4.5 days," he said.
Turning to commissioning, Lord Carter said it was vital clinical commissioning groups and sustainability and transformation partnerships prevented a repeat of the historic pattern of integration that saw "a tendency to move resources from the community into acute trusts". This was something "we would be very keen to discourage", he added.
Addressing the variation within commissioning of community services identified in his review, Lord Carter said there should be more standardisation of community services contracts. One example he gave was of a commissioner that included 6,000 KPIs in a community service contract.
Lord Carter said it was for STPs, rather than NHS England, to "take this work forward".
The Health and Social Care Act 2012 accelerated growing competition in community services. Lord Carter said: "I've seen a number of cases where the competitive process really forced people to innovate."
He said there was always a downside to the costs of lengthy procurement processes but he had seen "significant benefits" from competition.
Carter review: NHS can save £1bn in community and mental health services
1

2

Currently reading

Carter: Integrated acute and community trusts are more efficient