Carter report says there are £1bn in savings to made in community and mental health services by 2020-21
Review recommends GIRFT expansion into community services by autumn
Four-fifths of savings could be made in clinical and workforce productivity
Milestone report highlights bullying and harassment in the sector
Lord Carter's efficiency review into community and mental health services has suggested the sector can save £1bn by 2020-21.
Four-fifths of the predicted savings will come from clinical and workforce productivity measures, the report, published today by NHS Improvement, said.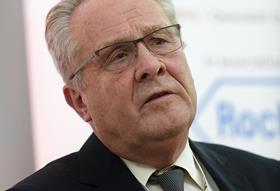 Lord Carter's long awaited review into unwarranted variation in mental health and community services also recommended the Getting It Right First Time programme be expanded into community services by the autumn.
Addressing high reported levels of bullying and harassment in the sector, the report said NHSI, NHS England and the Social Partnership Forum will carry out a review of bullying and harassment across the NHS in 2018-19.
It also said there was no evidence that the "often expensive" provision of inpatient community hospitals improved patient outcomes. The report said community hospitals with 10 bed inpatient wards were "unlikely to be clinically or financially secure".
Echoing concerns raised in an NHS Providers' report published earlier this week, the review said "there is a disparity in the extent of clear national leadership between mental health and community health services". It recommended NHSI and NHSE do more to recognise the role of community services.
Other recommendations included:
Community and mental health trusts review opportunities to consolidate their estates by the winter.
NHSI to support this by reviewing trusts' lease arrangements with NHS Property Services and Community Health Partnerships.
NHSI to support community and mental health trusts through a "new for old estates strategy".
NHSE to help standardise commissioning by developing "model frameworks" for commissioning mental and community health services.
Clinical commissioning groups and NHSE to specify standard response times for community health providers to support hospital discharges and avoidable admissions.
All providers to develop plans for improvements in technology and mobile working by April 2019.
The model hospital tool to be expanded to community and mental health by 2019.
All trusts to achieve accreditation level one of the NHS Procurement and commercial standards by March 2019 and level two by March 2020.
The Department of Health and Social Care, Ministry of Justice and arm's length bodies to improve management of restricted patients in mental health sector.
The report, much of which is focused workforce, found high levels of variation in the average time clinical staff were spending with patients in the community. It also highlighted variation in the skill mix of community teams.
As part of recommendations in this area, the report said data on care hours per patient day should be collected from all trust in the sectors from April this year.
The report said GIRFT's expansion into community services should initially focus on wound care and its current work in mental health will be expanded to community mental health pathways.
The programme should publish three national reports on the mental health sector by April 2020, it recommended.
Carter review: NHS can save £1bn in community and mental health services
1

Currently reading

Carter review: NHS can save £1bn in community and mental health services

2