CCG sector's forecast deficit is now £550m, worsening by nearly 50 per cent in two months
£800m risk reserve may not be "adequate" to achieve financial balance with current trust deficit forecasts "tantalising close" to that figure
Audit committee chair says "integrity and accuracy" of 2017-18 financial plans is essential
Clinical commissioning groups' forecast deficit for this year now stands at £550m, with one reporting month to go before 2016-17 ends, NHS England board papers reveal.
The figures released today show that the financial position of the CCGs has worsened by £180m – nearly 50 per cent – in just two months, with approximately a third of groups predicting an overspend at the end of February.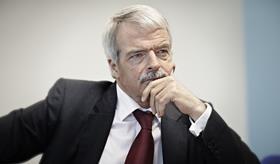 At the end of December, NHS England had forecast a year-end deficit of £370m for CCGs.
NHS England's financial performance report from today's board meeting said CCGs currently forecast an overall overspend of 0.7 per cent of their allocations.
However, the continued deterioration of CCGs' finances is offset by underspending in other areas of the NHS England budget. Direct commissioning is forecasting an underspend of £125m (0.5 per cent of its budget) and NHS England central budgets an underspend of £479m (13.9 per cent).
Speaking at the meeting, NHS England finance director Paul Baumann said the numbers were "fully in line with expectations" set out in previous reports, and NHS England was still on course to deliver its plan.
He said the £800m "risk reserve" that was held back from commissioning budgets should enable a surplus to be delivered to help balance deficits at NHS trusts. However, admitting the reserve has "proved necessary", he said "whether it is adequate to achieve balance depends on final [financial] performance". He said trusts' combined deficit could be "tantalisingly close" to the £800m figure.
Speaking the day before the publication of the Five Year Forward View delivery plan, David Roberts, chair of NHS England's audit and risk assurance committee, said: "Past performance is not an indication for future success, it is really important that everyone recognise that the same approach to managing aggregate budget in the year coming is just not as realistic." He said the national commissioning body has "much less flexibility to pull levers in centre of NHS England to offset challenges elsewhere", and added that "the integrity, realism and accuracy" of financial plans for 2017-18 is essential.
The board paper said a "higher level of risk than in previous years was identified during planning, predominantly reflecting the higher level of ambition with regards to efficiency gains". As previously reported by HSJ, this "risk has crystallised into forecasts as the year has progressed".
However, Mr Bauman also said the risks to delivering financial balance this year have "reduced steadily". The system is showing an "outstanding net risk" of £34m that could prevent it achieving its target, but Mr Bauman said: "We continue to work on mitigation to close our risk and have a reasonable line of sight for doing so".
Sir Malcolm Grant, chair of NHS England, said: "There's actually quite a lot of work to close the position for this year. Each year it gets tighter and tighter and games may be played, and it's really important for Paul [Baumann] and his team to be able to settle that down and get a final figure as soon as we can."
The report also revealed there are 79 CCGs forecasting a year-end overspend, of which 37 are "forecasting unplanned cumulative deficits". It said all CCGs facing overspends are "fully engaged in mitigating actions", which includes intervention from NHS England regional teams "where necessary".