NHS England admits commissioner plans will be "inherently riskier" than in previous years
Last year CCGs delivered QIPP savings of 2 per cent (£1.9bn), falling short of target
National body is planning for "financial balance" in 2016-17, compared to £599m underspend in 2015-16
The financial targets set for clinical commissioning groups in 2016-17 assume an average efficiency rate of 3 per cent, which is a 50 per cent increase compared to last year.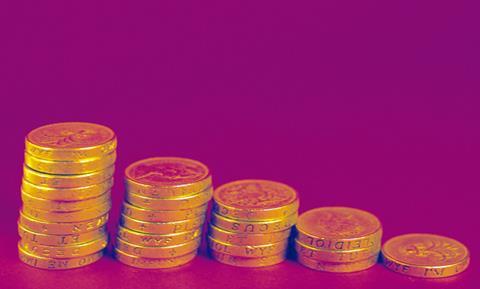 Documents published by NHS England on Thursday admit that commissioner plans would be "inherently riskier" than in previous years, because CCGs have had to set aside 1 per cent of their allocations in case of overspending in other areas.
Last year CCGs delivered quality, innovation, productivity and prevention savings of around 2 per cent. This equated to around £1.9bn, against a target of £2.2bn.
Targets for individual organisations have not yet been published, but last year some CCGs were set efficiency savings of 6 per cent.
CCG spending is reported within NHS England's overall budget, which was underspent by £599m overall in 2015-16.
HSJ understands the national body is planning for "financial balance" in 2016-17, as the major contributions to last year's underspend were non-recurrent or have already been adjusted for in budget setting.
Last year's underspend helped the Department of Health avoid a parliamentary vote for excess funds to cover overspending. A breakeven position for NHS England would place even more strain on the department.
The document says: "Commissioners are planning for a balanced position in 2016-17.
"In line with the planning guidance, they have also set aside 1 per cent of their allocations, equivalent to £800m, which will be available for investment later in the year to the extent that it is not required to secure the overall financial position of the NHS.
"As a consequence of creating this reserve, however, commissioner plans are inherently riskier than in previous years, with levels of commissioner efficiency assumed at 3 per cent on average…
"NHS England is working with commissioners to ensure that these risks are managed and/or mitigated, building on the measures introduced in 2015-16 to strengthen resilience and early intervention in CCGs where required."
Julie Wood, chief executive of NHS Clinical Commissioners, said: "The decline in CCG finances is something we have previously given warnings on, with the allocative growth in the 2016-17 funding cycle having already being committed to existing or announced projects or funding streams.
"The simple truth is there is no spare money in the system – we urgently need a cross-governmental review into the overall financial position of the NHS and an open debate about what can be realistically delivered with the current level of funding."
Fourteen trusts and CCGs put in 'financial special measures'
1

2

3

4

5

Currently reading

CCG efficiency target up 50 per cent

6

7