Investment firm offers to buy all Circle shares in deal the firm says values it at £74m
Circle says new investor could provide capital investment it needs to "scale up"
Circle posts accounts for 2016 that show business was loss making, but the loss had been reduced since 2015
A City investment firm is set to buy Circle, one of the NHS's most high profile private providers, in a deal the company said values it at around £74m.
Circle's board recommended this morning that its shareholders agree to the deal to sell all shares to Bidco, an entity owned by London based investment firm Toscafund. Toscafund already owns 27 per cent of Circle's shares.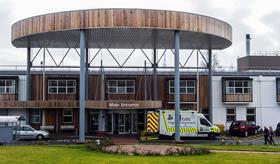 The offer would see the investment firm pay 30p per share. The shares have been valued at around 22p this month, according to the London Stock Exchange.
The deal will now be put to the rest of Circle's shareholders, which comprises a small group of large investment firms and a trust that oversees a stake owned by staff of around 25 per cent.
A company spokesman told HSJ: "The offer for Circle Holdings values it at £74.1m overall. Because Toscafund already owns shares, the cost of 'Bidco' bidding for the rest of the shares is less."
The company indicated it believed its strategy would remain broadly the same under the new ownership but Bidco would be able to inject significant capital "to scale the business to achieve sustainable free cash flow and profitability [which] is presently impacted by capital constraints".
Circle also posted its 2016 annual report today, which revealed it made an £8.1m loss in 2016, improving from the £11.7m loss in 2015. The company's revenues were up 4.4 per cent on 2015 to £133.5m.
The annual report also said construction on its third hospital, in Birmingham, would begin in 2016, and sets out plans to make a significant push into the rehabilitation market, an area in which it believes the NHS offers it significant opportunities.
The company had to alter its NHS strategy significantly after the collapse of Hinchingbrooke Health Care Trust franchise deal in 2015.
Since then it has focused on elective work at its hospitals in Bath and Reading, and prime provider contracts, including a £74m deal to oversee musculoskeletal services in Greenwich that begins in April. It has been running a similar contract in Bedfordshire since 2014 and runs an NHS treatment centre in Nottingham.
Circle chairman Michael Kirkwood said: "While much progress has been made on many fronts, the need to scale the business to achieve sustainable free cash flow and profitability is presently impacted by capital constraints.
"Under the single ownership of a well resourced bidder, and without the costs and distractions of a public listing, the management team will have greater flexibility to accelerate the growth opportunities that exist and, importantly, maintain the company's primary goal of outstanding patient care and outcomes."
An announcement to the London Stock Exchange said: "The offer, in aggregate, values the share capital of Circle (excluding the Circle shares held by the Tosca investors and to be acquired by Bidco under the exchange agreement) at approximately £55.3m and values the share capital of Circle (including the Circle shares held by the Tosca investors and to be acquired by Bidco under the exchange agreement) at approximately £75.2m."
Circle chief executive Paolo Pieri said: "The management team at Circle believe that it is a positive endorsement to have such strong support from a shareholder with a commitment to our future growth and ambitions, as well as a demonstrated track record of investment in their companies."