A major drawback of the commissioner-provider split is that local NHS organisations work to completely different, and often opposing, financial plans.
The illusion has been one of separate entities able to manage their budgets in isolation of each other – while in reality, their numbers are all being aggregated into what needs to be an affordable national plan.
The effective merger of NHS England and NHS Improvement – along with the financial reporting of different "sectors" and local systems – helps clear that illusion.
Comparing performance
Unhappily for the regulators, the combined numbers for 2019-20 do not yet present a record of performance that looks markedly better - despite an improved funding settlement.
After adjusting for the uneven phasing of some centrally held funds throughout the year, the combined NHS position at quarter two was a deficit of £665m, compared to a deficit of £815m at the midpoint of last year.
As was also the case in the last two years, the official forecast at quarter two is for the deficit to be halved by the end of the year, to £309m.
Whereas actual year-end performance in the provider sector tends to be significantly worse than forecast, the opposite is normally true for commissioners.
This is because NHSE tends to hold back whatever it thinks it needs to offset the provider deficit. So if the pattern of recent years continues, that £309m deficit will largely disappear by the end of the year.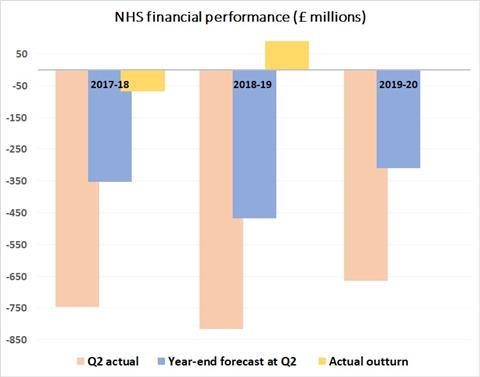 What might concern national leaders is this year's NHS revenue funding increase (3.6 per cent in real terms) is significantly more than the service has had over the last decade, and the largest it will receive until 2023-24 (barring a change in government).
A more dramatic improvement in 2019-20 would certainly have been hoped for, and perhaps expected.
It means the NHS must continue spending valuable time and effort on short term fixes, with cash held back to offset deficits — rather than being invested in long-term, transformational change – and things will only get tougher from here.
The bottom line
However, the combined financial reporting – albeit on a surface level – is an indicator of local and national leaders starting to think about spending against the overall budget envelope, rather than their narrow area of responsibility.
With that approach, the NHS should be able to focus on decisions that can really make a difference to the bottom line.

Lawrence Dunhill is a bureau chief for HSJ.