Nearly a quarter of a billion pounds has already been spent on the government's commissioning reforms, with tens of millions having been paid to general practice for its involvement, HSJ can reveal.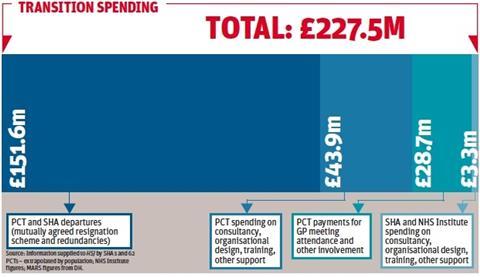 A year after the publication of the Liberating the NHSwhite paper, HSJ has collated information about spending on the commissioning overhaul it triggered, and asked primary care trusts and strategic health authorities for new details. Analysis shows:
If exit payments and redundancies are included in the calculation – the approach taken in the Department of Health's impact assessment of the Health Bill – at least £228m was spent on the transition between July last year and June.
Some GPs and practices have received thousands of pounds for their work on commissioning on top of their contract income, including significant sums for attending meetings related to the changes.
Rules and amounts paid vary significantly. Several senior commissioners told HSJ in some areas there was concern about practices or individuals receiving large payments unfairly, and sums not being spent on backfill.
Examples of expenditure levels include East Lancashire where £129,970 was paid between July 2010 and May 2011, with £24,000 – a fifth of an average GP's income – going to a single practice. It includes a series of separate payments for locum reimbursement, travel, meeting attendance and "clinical lead duties". In Bolton, clinical leads are paid a fixed sum for involvement, including all meetings and locum cover.
Rates for meeting attendance vary from £275 for a four hour session in Surrey, to £100 an hour in North Lincolnshire.
Analysis of several areas' planned 2011-12 expenditure on clinicians' time spent on commissioning suggests that, across England, the total annual cost could be up to £100m. It will come out of clinical commissioning groups' annual management budget which, senior figures are suggesting, may be limited to about £1bn in total.
The level of spending on developing commissioning does not appear to be anticipated in the impact assessment, which predicts some double-running costs, but only for six months. There are still two years of the transition to go. SHAs and many PCTs provided plans to spend further large sums on developing commissioning during the rest of 2011-12.
The figures are based on information from 62 PCTs, eight SHAs, and published data including spending under the mutually agreed resignation scheme.
British Medical Association GPs committee vice chair Richard Vautrey said: "We are still debating the future of the bill yet we have spent millions of pounds trying to reorganise the system in a huge way. We are still not clear what the end game actually is. It is one of the most bizarre reorganisations I have been through."
However, Dr Vautrey said GPs were not benefiting from the arrangements. He said: "No one expects to make money [from it]. The reality for those who engage is that it piles work into all hours of the day. You need to resource that."
Some PCTs providing information said they could not distinguish spending on the transition because staff and funds had been reallocated from other tasks.
One PCT chief executive demanded national guidance to limit payments and said: "GPs make very expensive managers."
PCT Network director David Stout said GPs had to be remunerated for time out of practice but said: "The level [of payments] is a moot point." Mr Stout urged transparency so there was "less of a sense of… people paying themselves lots of money".
A DH spokesman said: "We've been clear from the outset that the benefits of reform will far outweigh the costs. The impact assessment published alongside the Health Bill estimated savings of £5bn by 2014-15, and around £1.7bn a year thereafter.
"A revised impact assessment will be published later this year."