NHS Confederation says £4bn additional revenue funding needed to sustain day to day services
Confed also calls for a £2bn transformation fund and for any pay uplift to be funded separately
Comes as hospitals struggle to pay suppliers due to cash shortfalls
The health service needs a minimum of £4bn additional revenue just to sustain day to day services, the NHS Confederation has warned.
Ahead of the budget later this month, the confederation, which represents 500 NHS organisations, has called for a £4bn uplift in the annual revenue budget over the next two years, as well as a transformation fund of £2bn a year.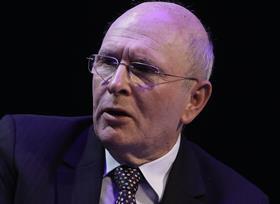 It says further funding should also be awarded in addition to this, to cover an expected uplift in staff pay.
It comes as many hospitals struggle to pay suppliers on time due to cash flow issues, with some being threatened with legal action over late payments. Meanwhile, the sustainability and transformation fund continues to be used in full to offset deficits in the provider sector, meaning it cannot be released for transformation projects as initially intended.
Confederation chief executive Niall Dickson told HSJ a "comprehensive and objective" assessment of NHS funding would be needed in the longer term but the "precarious state" of services means additional funding is required urgently.
He said: "Given the precarious state of the service and current finances, as well as the projected levels of inflation, the confederation's view is that £4bn a year will be required just to sustain the NHS in England for each of the next two years, as well as a £2bn a year transformation fund to drive much needed reform…
"We recognise the difficult decisions the chancellor has to make but it is vital the cost of any pay award should be met on top of this.
"Even with this additional funding there will still be a major challenge to recruit the staff needed to keep the system going.
"We are also clear that anything the health service receives should be matched by equivalent levels of increase for adult social care."
Under current spending plans, NHS England's revenue budget is due to rise as follows:
2017-18 – £110.2bn.
2018-19 – £112.7bn.
2019-20 – £115.8bn.
As has been highlighted repeatedly by NHS England, next year's increase would result in a real terms spending cut when measured per head of population.
The Conservative manifesto pledged to increase spending to ensure a real terms increase per head of population in each year of the Parliament. But this pledge could be met with a relatively marginal uplift compared to what has been proposed by the NHS Confederation.
The manifesto also promised additional capital funds in the budget to invest in buildings and infrastructure. Capital is accounted for differently to revenue.