Health secretary Jeremy Hunt has said the Five Year Forward View was delayed by a year as the provider sector deficit spiralled to £2.5bn in 2015-16.
NHS Improvement chief executive Jim Mackey revealed yesterday that the deficit in 2016-17 was £791m, a reduction on the £2.5bn reported for the previous year.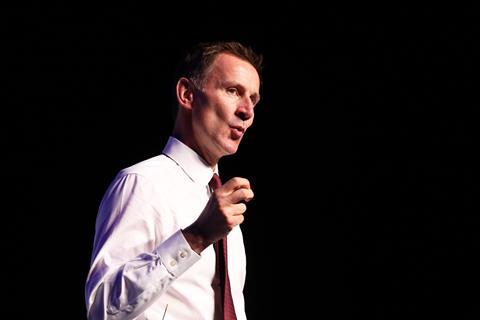 Mr Hunt said at Confed 2017 today: "That is a terrific achievement but we also have to be honest and say it should never have got to £2.5bn in the first place.
"That delayed the rollout of the Five Year Forward View by a year."
Mr Hunt, who said he was the only health secretary to be appointed for a fourth time following last week's election result, added that achieving financial balance was "an immediate priority" for the government over the coming year.
He said Aintree, Derwent Valley, Knowsley and St Helens would be the latest trusts to receive a share of £100m already announced by the government to introduce GP streaming in A&E.
He said £76m of the funding had already been introduced and further allocations to improve emergency departments' performance would be announced shortly.
However, Mr Hunt said maintaining "financial discipline" would be a priority for the government this year, alongside the delivery of £1.5bn of savings through implementation of the Carter review.
Restricting growth in demand for emergency care by 1.5 per cent would also be a focus, with the four hour standard remaining in place.
"The reason the 95 per cent is non-negotiable is because it is quite simply a matter of patient safety," he added.
The health secretary said delivering improved patient safety including sepsis care and the maternity safety programme would allow the NHS to "blaze a trail across the world".
"All of these things are immediate priorities," he said. "If we deliver them then we get the big strategic gain through the Five Year Forward View to deliver the biggest transformation to integrate care and prevention anywhere in the western world.
"The Five Year Forward View has an ambitious vision and has the full support of the government.
"We know we have our side of the bargain to do to find the capital to resource the Five Year Forward View.
"That is the big opportunity. For us to get there we are going to need to be nimble, smart and determined."