Former health secretary says current funding formula for the health and social care does not work
NHS Confederation chair says discussion over "quantum and structure" of funding will be needed "over coming months"
Stephen Dorrell also reveals confederation is talking to Local Government Association about "deeper relationship"
The health and social care system will likely require more money over the next four years than was allocated in the comprehensive spending review, former Conservative health secretary Stephen Dorrell has suggested.
Mr Dorrell, now chair of the NHS Confederation, told HSJ there was "an urgency over both the quantum and the structure" of funding for health and care services, and that this issue would be debated over the "coming months".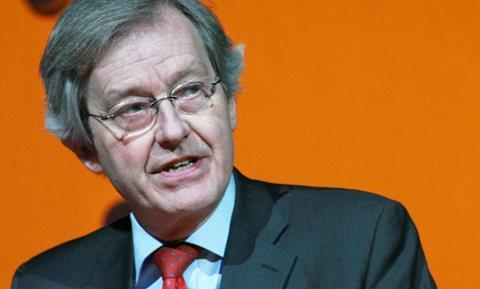 The former minister is the latest high profile figure to suggest the settlement will not be sufficient to sustain health and care services, following interventions from senior figures at the King's Fund and the Health Foundation, among others.
He said it was vital that government takes a "holistic view of the health and social care system as a whole".
Further funding negotiations should be conducted with the explicit understanding of the impact that other public budgets have on the NHS, Mr Dorrell argued.
He said: "The issues of funding social care [and other budgets such as housing and welfare] will have a very direct impact on the health service…Does the current funding formula for the health and care sector as a whole work? I don't think it does. Exactly how it is resolved is a debate we will have over the coming months."
Asked if there could be a satisfactory situation in which the NHS budget was not increased, but other related social care and welfare budgets were, he said: "I think that's one scenario. You can see a variety of different scenarios."
Mr Dorrell was speaking to HSJ with NHS Confederation interim chief executive Stephen Dalton ahead of the organisation's annual conference next week.
The duo said that their main priorities for the confederation over the next year were underpinned by the need to take a more holistic view of health and services beyond the NHS.
Mr Dorrell said: "We need to develop our relationship with the whole of the NHS family [and other groups like the Local Government Association and the Association of Directors of Adult Social Services], so that we have a more coherent voice about where the health and care system needs to go."
Mr Dorrell said "discussions were going on" about a "deeper relationship" with the LGA.
"Our roots are completely different and there will always be an LGA and a NHS Confed, but I do think there needs to a deeper relationship," he said, adding it was too early to say what form this would take.
Mr Dalton said: "The issues and challenges that the NHS faces are not going to be solved within the NHS family alone."
He added that as well as bringing in social care and other parts of the public sector, there were equally important relationships to be developed with third sector and commercial providers.
Asked how long he expected to remain as interim chief executive, Mr Dalton said this was yet to be decided but he was "planning on having a quiet Christmas". Mr Dorrell said that defining the new chief executive's role was a key priority for the coming months, before beginning a recruitment process.
Exclusive: 'Blackmail' over control totals could undermine STPs, leaders warn
1

2

Currently reading

Dorrell warns health and care service will need more cash