The Department of Health paid out £1.2bn in bailouts in 2014-15, to help more than 50 troubled NHS providers pay wages and creditors, replace aging equipment and cut deficits, HSJ analysis has found.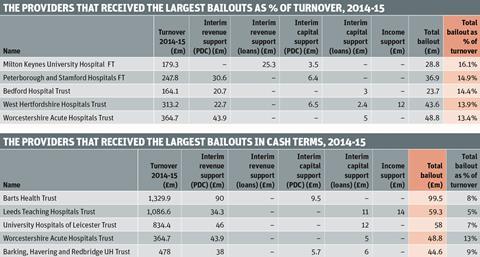 DH paid out £1.2bn in direct bailouts to struggling providers last year, roughly double the amount paid in 2013-14
Twelve trusts received support worth more than 10pc of their annual turnover
Bailouts were a mix of cash support, loans and income. Fifteen trusts received "income support" payments allowing them to cut or remove deficits
Experts say pressures this year could see DH run out of cash.
The figure is around double that paid out by the DH in the previous year, and provides another stark illustration of how rapidly NHS hospital finances are deteriorating.
More than a third of the acute sector was dependent on bailouts from the department in 2014-15, up from around a quarter the previous year. A dozen trusts received DH support worth more than 10 per cent of their annual income.
Three trusts received bailouts totalling more than £50m apiece, with east London special measures trust Barts Health getting £100m – more than the annual budget of some specialist hospitals.
King's Fund policy director Richard Murray, a former senior analyst and economist for the DH, told HSJ the figures were "horrific".
"It just strikes me again how much the payment system in the NHS looks fundamentally broken – if you've got this many [providers] now reliant on an alternative source of funding to their commissioners," he said.
Mr Murray warned that deficits and the need for bailouts remained likely to spiral higher this year, with little time left for the DH to impose its planned agency spending cap before winter pressures made it politically and practically difficult to close hospital beds.
"If we had begun to see some shock and awe in the NHS, with big providers switching off agency staff, with some of those rumours about agency controls really biting, although it would have been difficult for the department they might have still been in with a chance of bringing the deficits and the requirement for bailouts down.
"But we haven't heard that. The question must arise whether the department will run out of cash [in 2015-16]."
While 2014-15 saw a sharp increase in DH bailouts, it also saw wide variation in the ways providers in the red were treated.
The bulk of bailouts (£780m) were provided in the traditional form of "public dividend capital" (PDC). This is cash support that helps a provider pay creditors, but does not reduce its deficit. It is treated as a kind of equity investment in trusts, not debt to be repaid.
However, halfway through 2014-15 the department converted some bailouts to loans, in what was described as an attempt to impose greater financial discipline on overspending providers. In total, 23 trusts received bailouts as emergency loans, with £234m drawn down.
In contrast to this approach, the DH also paid out £176m of bailouts as "income" for 15 NHS trusts, meaning it reduced or removed their reported deficits and improved the reported figure of the provider sector overall. Figures shared exclusively with HSJ show that most of these payments were eight figure sums, with the largest – for East Sussex Healthcare – being £18m. The department said these bailouts were only given to trusts "where there is confidence that the trusts will recover and can be incentivised to deliver a better position".
Providers that received "income support" payments ranged from huge trusts like Leeds Teaching Hospitals to some of the smallest, such as Wye Valley and George Eliot.
Numerous providers received more than one category of DH bailout, with one – West Hertfordshire Hospitals – receiving four different kinds of financial support. As well as a £12m income support payment to cut its deficit, the trust also received £22.7m PDC to support revenue spending, £6.5m PDC to support urgent capital spending, and a £2.4m emergency loan for further capital spending.
'The question must arise whether the department will run out of cash'
HSJ's figure of £1.2bn is a conservative estimate of providers' overall dependence on departmental support last year. It does not include the £239m that the DH paid out last year in "dowries" to providers that acquired struggling trusts, like Barnet and Chase Farm Hospitals or South London Healthcare.
Nor does it include the £177m in "non-recurrent" payments to specialist acute providers that the department and NHS England belatedly agreed to make at the end of the last financial year.
Mr Murray said that meant £1.2bn was the "lower end of how bad it is", because some of the dowry funding was "covering up deficits" and the need for bailouts would likely have been higher without the specialist top-up.
A DH spokesman said: "Sometimes there is a case for targeted support where it can deliver benefits."
He added: "We are investing the £8bn the NHS has asked for to implement its own plan for the future and [we have] introduced cost control measures, like clamping down on rip-off staffing agencies. We expect trusts to show tight financial grip and live within their means."
A spokeswoman for Barts Health Trust said: "As the biggest NHS Trust in the country, Barts Health is a large and complex healthcare organisation serving almost three million people in east London, including some of the most deprived and diverse communities in Britain. This funding from the Department of Health ensured payment of employee salaries and essential supplies, enabling us to continue to provide high quality care."
Exclusive: DH bailouts rocket to £1.2bn as hospital finances crash
1

Currently reading

Exclusive: DH bailouts rocket to £1.2bn as hospital finances crash

2