NHS Improvement in early discussions about creating an "NHSI bond" to help accelerate capital investment
Department of Health's capital budget has been frozen in cash terms over the course of this parliament, which equates to a real terms cut
Jim Mackey says some of the NHS estate is in an "unacceptable" condition
Regulators are looking to establish a new mechanism to deliver much needed capital investment for NHS trust estates.
Jim Mackey, chief executive of NHS Improvement, said the regulator is seeking greater flexibility around capital spending and is looking to create an "NHSI bond".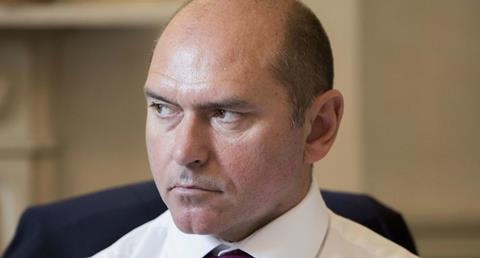 This could be a mechanism for providers that want to sell assets to realise some of the capital before the sale goes through. Sales can often take years to complete, so the bond would help accelerate investment.
Discussions are still at an early stage, so the source of the accelerated funds is unclear.
The Department of Health's capital budget has been frozen in cash terms over the course of this parliament, which equates to a real terms cut.
The capital budget has also been repeatedly raided in recent years to prop up the revenue account. Another £1.2bn transfer is expected in 2016-17, making the situation even tighter.
Last month HSJ revealed a huge spike in backlog maintenance problems at NHS trusts, which are struggling to access capital funds to deal with the issues.
Meanwhile, many of the 44 sustainability and transformation plans will include large requests for capital investment.
Speaking at the HSJ Summit last week, Mr Mackey said: "My view is that the door has to open at some point again for further capital investment…
"There's a lot of funding appetite out there to invest in the NHS but we are boxed in a little bit on how the Treasury counts CDEL [the capital budget]. So there's a discussion to be had around having some CDEL flexibility and we're creating an NHSI bond that will support capital investment.
"Every STP describes a shift in the model of care. The problem is we can't go and touch that, it doesn't really exist anywhere in any kind of scale."
Mr Mackey also referenced the growing backlog bill, and cited the serious concerns raised by the Care Quality Commission about the state of the buildings and facilities at Brighton and Sussex University Hospitals Trust.
He said: "The capital challenge we have this year is actually harder than revenue because of the overall level of resource and we don't have the central mechanisms that we have on revenue.
"There's going to be a hell of a lot of downward pressure, and we all know when we do this that there's a huge bill in the future.
"We've got hospitals up and down the country that have got things like a single point of electricity supply in the building which you just would not have [if you were designing it now].
"There are examples where you've got really terrible fabric of buildings that needs sorting out. It's not acceptable to have our patients in that sort of environment.
"The environment at Brighton, for example, should never have got that bad. It's absolutely outrageous that we've got vulnerable people in that kind of facility."
The HSJ Summit was held last week under Chatham House rules. Mr Mackey has since agreed for these attributed comments to be published.
Exclusive: New NHS 'bond' could unlock capital funds, says Jim Mackey
1

Currently reading

Exclusive: New NHS 'bond' could unlock capital funds, says Jim Mackey

2