Professor Tim Briggs says Getting It Right First Time programme can save NHS up to £90m
Trust management must engage with clinicians to drive changes
Some clinicians appear to have "given up hope"
The surgeon leading the national programme to reduce clinical variation in the NHS says there is "no way" he would ask for extra funding until the service improves efficiency and quality of care.
Professor Tim Briggs, chair of the Getting It Right First Time initiative, says the NHS will only survive if it addresses the "enormous" problem of unwarranted variation.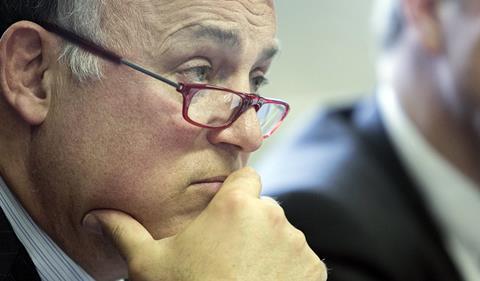 His comments are published today in a report by the King's Fund, shared exclusively with HSJ.
The report also says there is a close correlation between staff morale in a trust and how successful GIRFT has been.
The report quotes Professor Briggs saying: "Money for social care aside, where there is a massive problem, there is no way right now I would ask for more money for the NHS.
"The waste and variation out there is unbelievable and we have got to get our act together across all the specialties to improve quality and unwarranted variation and complications."
Professor Briggs launched the GIRFT pilot in 2013, visiting 142 trusts to highlight major variation in costs, quality and outcomes in elective orthopaedics.
GIRFT was then introduced in 11 more specialties including vascular; general surgery; and ear, nose and throat, before it was extended to a further 20 specialties this year after £60m in investment by the Department of Health.
Nick Timmins, senior fellow at the King's Fund, attended GIRFT meetings at six trusts to produce a "warts and all" report, being published today.
His report describes Professor Briggs as "a force of nature" and quotes one colleague who described him as a man who "doesn't wait three weeks for a meeting – and that includes with government".
During his introduction to clinicians while visiting trusts all over the country, Professor Briggs tells them: "If the NHS is going to survive, we are going to have to sort this.
"There is no other option if the NHS is to balance its books and deliver the services its patients deserve."
University College London is currently evaluating GIRFT but Mr Timmins says there were "some pretty spectacular figures flying around".
"Professor Briggs on occasion has cited savings of £60m to £90m from the original programme, which, given its initial cost of £220,000, is an utterly remarkable rate of return," his report says.
"If those figures are right, one would want to buy shares in the project."
The King's Fund report outlines savings and benefits achieved in orthopaedics since the GIRFT visits:
Around 50,000 bed days a year have been freed up by a half-day reduction in the English average length of stay for hip and knee replacements.
The proportion of people over 65 receiving cemented hip replacements has risen from 45 per cent to 55 per cent after Professor Briggs said there was "overwhelming evidence" from the National Joint Registry that cemented joints produce excellent long term clinical results and are among the least expensive treatments available.
Three-quarters of hospitals have secured lower prices for implants after renegotiating contracts.
Mr Timmins says only half of the trusts visited as part of the orthopaedic study had responded to a questionnaire but those had identified savings of £20m-£30m since the GIRFT visit and the point of completing the questionnaire, with an additional £15m-£20m forecast for the following 12 months.
He says if the savings were extrapolated across all trusts, GIRFT would have produced initial savings of £40m-£60m from the first visit, with another £30m-£40m to follow.
Treating the savings claims "with some caution" was not to question the value of GIRFT, Mr Timmins adds, and its potential is "clearly considerable".
However, he points out GIRFT faced obstacles, "not least universal buy-in".
While one meeting was attended by 40 people, just three surgeons and a junior manager attended another at a trust in serious financial trouble.
"The great strength of the programme is that it is clinically led. But without management there is a limit to what it can achieve," Mr Timmins says.
He also says questions remained over how GIRFT aligned to NHS England's Right Care project and sustainability and transformation plans, "which, in some parts of the country, appear to have been assembled with little or no clinical input".
Rob Hurd, chief executive of the Royal National Orthopaedic Hospital Trust and who has attended 160 GIRFT visits, said was "really bad" in a handful of trusts where clinicians appeared to have "given up hope".
He said: "They had become the workhorses to churn through the volumes to hit the waiting‑list targets, and that was all… Management was not engaged with the clinical outcomes.
"We'd go through their data and they'd shrug their shoulders and look at their shoes and say 'It is all too difficult, we turn up at work, do what we need to do, and go home'.
"That was not a regular feature. But at a handful of hospitals we found that.
"And those are the places that you really worry about."
The next GIRFT report – John Abercrombie's review of general surgery – is due this summer.