Former UCLH boss says private sector appetite for investment in NHS estate far larger than thought
Tells HSJ one pension fund indicated it could invest £5bn over 20 years
Fund confident it could be done without breaching Treasury borrowing rules
Sir Robert Naylor, who led the national review of NHS property, has revealed that one pension fund is willing to invest £5bn in NHS estates over 20 years at an interest rate of two per cent.
Sir Robert told HSJ he had spoken to a number of pension funds and sovereign wealth funds about investing in NHS estate as part of his review of NHS property.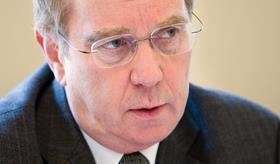 His review published last March said the service required an extra £10bn to make it fit for purpose and this could be raised by a combination of increased Treasury capital funding, the proceeds from the sale of surplus land and private investment.
The Department of Health and Social Care this morning issued its response to his 17 recommendations, accepting 15 of them.
The government has already confirmed that £3.9bn will be added to the current £4.8bn capital budget by 2022-23. Sir Robert's review said another £3.3bn could be raised from the sale or changing the use of surplus NHS land, leaving £2.8bn to be raised from the private sector.
But in an interview with HSJ today the former chief executive of University College London Hospitals Foundation Trust said his conversations with fund holders indicated there was potentially much greater scope for private investment, which could be particularly attractive with interest rates at historic lows.
He gave the example of one pension fund that indicated a willingness to invest £5bn at an interest rate of 2 per cent over 20 years.
Sir Robert said the difficulty would be keeping this borrowing off the Treasury's official public borrowing totals, but that the fund was confident this was possible and had already been done in other parts of the public sector.
He said "as a long term investment it could be more effective" for trusts than public dividend capital from the DHSC, which has an interest rate of 3.5 per cent. He added some funds had expressed frustration that the NHS was less advanced than other parts of the public sector in working round Treasury rules on borrowing.
Sir Robert told HSJ the devolution in Greater Manchester and London could see those cities negotiate this kind of deal directly, although Treasury and DHSC oversight would be necessary.
In a press release today, the DHSC said it would not be merging NHS Property Services and Community Health Partnerships – wholly DHSC owned companies – into the new NHS Property Board, or making the board an arms-length body, as Sir Robert's report recommended.
Sir Robert told HSJ: "The reason I wanted it to be arm's length was so it would be like other major infrastructure projects – the London Olympics, Crossrail, High Speed 2. It's more independent. Does the DHSC have the capacity to implement projects of this scale? They want it to be retained, possibly because of the amount of money involved.
"But they have gone some way towards making it arm's length with the new strategic estates partnership team [which will advise sustainability and transformation partnerships].
"The question now is in the implementation, do we have the systems in place to implement this across the NHS?"
Asked if the systems were in place, Sir Robert said: "Things have improved. There is a much greater interest [in estates] than there was. [Previously] there was no incentive for the NHS to really address this issue."
Sir Robert's report said 13 per cent of the surplus land was in the capital, but this represented 52 per cent of the £3.3bn.
Asked if this would lead to an imbalance between regions based on the value of their land, he said it was down to the DHSC and its allocation of its £4.8bn annual capital budget to ensure equity.
A spokeswoman for the DHSC said NHS Property Services and Community Health Partnerships had not been merged into the NHS Property Board because "we have chosen to prioritise establishing the strategic estates planning team, to build capability within the system".
NHS Property Services was created to take over the estate of primary care trusts when they were abolished in 2013. It is currently working through a large caseload of tenancy disputes with GPs.
The HSJ Strategic Estates Forum is taking place on 20 March at BMA House in London. This is a high level strategic forum that brings together estates directors, sustainability and transformation partnership estates leads and trust board leaders responsible for the estates function who are developing strategic plans for their organisations and local health economies. The focus of the forum is on issues such as the delivery vehicle for the Naylor Report, the creation of Project Phoenix, advice on establishing strategic estates partnerships and assessing progress of STP estates plans. Sir Robert Naylor, national adviser, NHS Property and Estates; David Williams, director general of finance, Department of Health and Social Care and Simon Corben, head of profession, NHS Improvement are all confirmed as keynote speakers for the event. Register your interest for this free to attend event on our website: https://strategicestates.hsj.co.uk/register-your-interest-attending
Exclusive: Pension fund prepared to invest £5bn in NHS estates, says Naylor
1

Currently reading

Exclusive: Pension fund prepared to invest £5bn in NHS estates, says Naylor

2

3