Requests for short-term revenue support will be subject to "increased challenge and scrutiny"
Trusts' reliance on bailout support has grown in recent years as expenditure has increased faster than income
Providers seeking support will need to detail if "suppliers are threatening to put trust's account on stop"
NHS trusts will face tighter controls when requesting cash bailouts from the government, according to a leaked email seen by HSJ.
Providers with a budget deficit often have access to short-term loan facilities from the Department of Health, in order to maintain cash levels and ensure staff and invoices can be paid.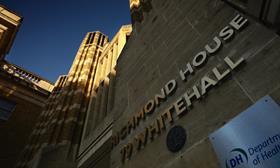 However, an email sent to trusts by NHS Improvement on Monday set out "changes to [the] existing process" for drawing down revenue finance, with trusts asked to detail where suppliers have threatened to put their account "on stop".
It said: "Due to the increased level of revenue financing being required by providers, and the increased level of scrutiny from HM Treasury and the DH, applications will be subject to increased challenge and scrutiny going forward.
"All providers will now be required to provide an analysis of cash draws to show the level of cash required to fund any: year to date deficit requirement; revenue loan repayments; cash in advance of sustainability and transformation funding; or cash required for exceptional working capital/liquidity reasons, ie contractual payments."
Trusts' reliance on bailouts has been growing in recent years as expenditure has grown faster than income.
The provider sector had an underlying deficit of £3.7bn in 2015-16, according to experts, with around two-thirds of trusts in the red. Intense efforts are being made to limit the deficit to £580m in 2016-17, with the help of the £1.8bn of STF.
Deficit support often comes in the form of a "revolving working capital facility", which is similar to an agreed overdraft to cope with cashflow problems. Drawdowns can be requested on a monthly basis.
The email added that where working capital is requested, providers will have to supply supporting information including: "current Better Payments Practice Code performance; aged creditors/debtors; creditors beyond payment terms; and any suppliers threatening to put trust's account on stop".
The Better Payments Practice Code says invoices should be paid within 30 days.
There have been instances of suppliers refusing to deal with NHS trusts due to late payments, such as at Wye Valley Trust earlier this year.
It is highly unlikely that a hospital would ever be allowed to run out of cash by the DH. However, the new controls are likely to be an attempt to encourage tighter cash management, in a bid to encourage greater focus on reducing trusts' operating costs. It could also encourage trusts to ensure timely payments from their commissioners.
Sally Gainsbury, senior policy analyst at the Nuffield Trust, said: "This looks like the NHS as a whole is experiencing a cashflow crisis, which is the inevitable consequence of providers' expenses running at 5 per cent above their income.
"This is really worrying stuff, but if you run deficits year after year then you will start to have cashflow problems.
"One way providers could manage their cashflow would be paying invoices at the latest possible date, but that wouldn't be a desirable solution. Not least because a large chunk of those invoices will be to other parts of the NHS."
The email adds that as part of the "December draw process", the DH has requested that "all foundation trusts who have had revenue financing support in 2016/17 provide a breakdown of what this cash has been used for". It adds that further support may be restricted by the DH and Treasury if this analysis is not provided.
NHS Improvement did not respond to HSJ in time for publication. The DH declined to comment.