Capital in 2018-19 will need to be largely from the Treasury
Land sale proceeds and private funding will take longer to deliver
Necessary phasing of total capital not resolved
Recipients of £325m announced in spring budget to be confirmed this week
The government will have to provide nearly all the capital funding for service transformation in the next year or two because raising it from land sales and the private sector will take several years, Simon Stevens has said.
It suggests that of a £10bn NHS capital programme promised by Theresa May, the share to be sourced from the Treasury will need to be frontloaded in 2018-19.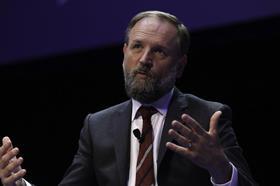 The NHS property and estates review published before the election estimated that additional capital requirements "might total around £10bn, with a conservative estimate of backlog maintenance at £5bn and a similar sum likely to be required to deliver the [Five Year Forward View]". It said this "could be funded through property disposals, private capital (for primary care) and from HM Treasury". This was endorsed by Ms May during the general election campaign.
Asked about the phasing of the total capital funds needed, Mr Stevens said that having reviewed the readiness and timing of STP capital proposals in recent months, "certainly backloaded is not desirable. There's not much point saying 'the gushers start flowing in 2022'". It also should not be completely frontloaded," he said.
The recipients of £325m of government capital announced in the spring budget are due to be confirmed this week.
However, the NHS England chief executive said he agreed the contributions to the £10bn from NHS land sales and private sources would take several years to materialise therefore – "for the most part" – initial tranches would have to be funded by government.
He added: "There are going to be substantial needs over the next two to three years, but the exact profile, obviously we've got to discuss with the Treasury and the Department of Health."
Mr Stevens also warned any move by government to increase NHS pay, which would "obviously have to be matched by [revenue] funding to support it", would not ease the strain on day to day NHS budgets. "That by itself is not a medium term solution to the funding pressures on the NHS," he said.
Stevens: NHS could create new national 'council' to share decision making
1

2

Currently reading

Exclusive: Treasury must provide transformation funding, insists Simon Stevens

3

4