Trusts hit by unexpected inflation costs of £500m
Underlying financial gap has barely improved over the last year, Nuffield Trust says
Provider sector likely to be carrying an underlying deficit of at least £2bn by 2021
NHS trusts are having to bear unexpected inflation costs of around £500m, which means the underlying financial gap between their income and expenditure has barely improved over the last year, policy experts have said.
Analysis from the Nuffield Trust, shared exclusively with HSJ, said despite the provider sector continuing to make significant savings in 2016-17, additional inflation has left them with a similar financial gap this year.
The combination of rising activity, higher than expected cost inflation and constrained funding is likely to leave the sector still struggling with an underlying deficit of at least £2bn by 2021, the think tank warned.
The official inflation assumption for NHS trusts was set at 2.3 per cent for 2017-18, to take account of cost increases for staff pay, drugs and other bills. This assumption was factored into the national tariff governing how much providers are paid for the patients they treat.
However, in a new report, the Nuffield Trust suggested trusts are experiencing inflation at a higher rate than this, of around 2.9 per cent, which will effectively widen the gap between their income and expenditure by an extra £500m.
The consumer price index, which is the measure used by the Bank of England, suggested inflation across the economy increased from 0.3 per cent to 2.7 per cent from April 2016 to April 2017. But the range of goods and services purchased by the NHS is often subject to higher inflation than those within the wider economy.
The report, due to be published on Thursday, will also set out the true scale of the underlying financial challenge faced by NHS trusts.
Although the reported deficit for the provider sector was £791m in 2016-17, this included the benefit of £1.8bn of non-recurrent sustainability and transformation funding, as well as around £1bn of one-off efficiency savings or accountancy adjustments.
This means the underlying deficit in 2016-17 was likely to be around £3.7bn, which was effectively the run rate heading into 2017-18.
After factoring in the unfunded cost pressures of inflation of £2.2bn – £500m higher than expected – this has left providers facing a gap between income and expenditure of £5.9bn before efficiency savings.
This compares to an underlying deficit of £4.3bn at the end of 2015-16, and an income and expenditure gap of £6bn before efficiency savings.
The report said: "This means that although providers reduced their underlying deficit to £3.7bn by the end of 2016-17, on day one of the new financial year they faced an expenditure-over-income gap widened by even more unfunded inflation than the official forecast anticipated – around £2.2bn in total. This expanded the overall gap for 2017-18 to £5.9bn – almost back to where it was at the start of the previous year."
Providers would have to deliver efficiency savings of 4.3 per cent to deliver the combined deficit plan in 2017-18.
However, the Nuffield Trust said a more "more plausible, if still stretching, savings expectation for this financial year might be to repeat the 3.7 per cent total cost reduction made in 2016-17, while reducing the proportion of those savings made non-recurrently".
This would "marginally" reduce the underlying deficit from £3.7bn to £3.5bn (see graph below).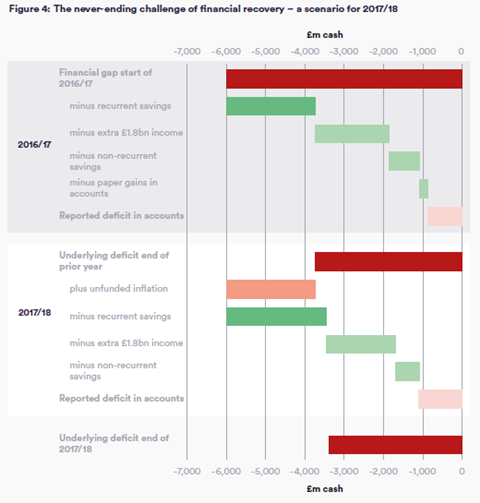 Source: The Bottom Line Nuffield Trust report
Phillippa Hentsch, head of analysis at NHS Providers, said trusts face "substantial pressure" to deliver their financial targets this year. She added: "They will need to cut their operating costs by £3.6bn to balance their books, absorb further increases in demand and costs, at the same time as improve A&E performance and deliver new commitments for cancer and mental health provision. This is while funding for the NHS this year falls from 3.6 per cent to 1.3 per cent.
"With unfunded increases in demand, inflation and costs set to continue, we need a new approach to tackle the gap between what providers are being asked to deliver and what they are being funded."
'Solution is not beyond the public purse'
Beyond this year, an optimistic inflation assumption combined with realistic efficiency expectations would likely lead to a "very significant" underlying deficit of around £2bn in 2021. But if inflation continues to rise above the official forecast, the deficit could remain at around £3.7bn, the Nuffield Trust says.
The think tank warns that a persistent underlying deficit, as well as commissioning overspends will mean that without additional funding, national transformation funding will remain unspent to help the Department of Health balance its books.
The STF, of which an increasing share was intended to be used for transformation projects in line with the Five Year Forward View, was worth £2.1bn last year and rises to £3.4bn in 2021. But national leaders have acknowledged that £1.8bn of the fund will be used to offset provider deficits until 2018-19 at least.
However, the Nuffield Trust report argues that the government could increase NHS funding by £3bn, in effect establishing a new transformation fund, as this would still leave overall health spending £1bn lower than it would be by 2021 had it risen in line with national GDP.
Sally Gainsbury, senior policy analyst, said: "NHS trusts have made billions of pounds of efficiency savings every year, but these have been largely absorbed by growth in inflation, rising numbers of patients and reductions in the money paid to them per patient.
"Yet increasing funding to wipe out these deficits and fund much-needed reform in the NHS is entirely possible and wouldn't even increase the proportion of our country's wealth spent on healthcare. Our hospitals are undoubtedly in financial crisis. But the solution to that crisis is not beyond the reach of the public purse."