Official report on early intervention in psychosis services across south of England raises concerns over funding
Report reveals investment not reaching front line teams across the region 
Some struggling teams have resorted to restricting patient access, the report claims
Struggling community teams have resorted to "limiting access" to services for seriously ill patients as investment fails to reach the front line, an official report has claimed.
Funding for early intervention psychosis services, a key priority of the forward view for mental health, did not reach front line teams in 2018-19, an analysis by the Oxford Academic Health Science Network has shown.
This is despite the AHSN raising the same concerns in a report for 2017-18, which also warned increasing caseloads and lack of funding were putting the quality of services at risk.
In 2016, NHS England mandated that, by 2020, at least 60 per cent of patients experiencing a first episode of psychosis should receive a National Institute for Health and Care Excellence recommended package of care within two weeks.
In 2017-18, Oxford AHSN found, while access standards were being exceeded on average, none of the providers across the region had funded their teams to the recommended NICE level of £8,250 per patient.
Its latest report, seen by HSJ, has revealed that, despite some increasing investment, all providers again failed to hit the recommended funding level for 2018-19.
The 2018-19 analysis also looked at team caseloads compared to the previous year and found: "With the exception of [Oxford Healthcare Foundation Trust] the caseloads of EIP teams in the south of England have stayed largely the same or reduced this year. Our interpretation is that teams have struggled to meet demand without additional resources and have resorted to limiting access to the service by raising referral thresholds, limited the age range for the service or by discharging people earlier."
The AHSN had predicted a 25 to 30 per cent increase in caseloads at the beginning of the year, following a national requirement to increase service coverage from up to 35 to 65 year olds.
HSJ asked trusts whether they had restricted access to services due to funding. Most trusts are either yet to respond or did not directly address the question in their reply.
However, Southern Health FT, Central North West London Mental Health Trust and Surrey and Borders Partnership FT told HSJ they had not limited access to services due to funding. A CNWL spokesman also told HSJ it had been able to meet national access standards despite not receiving increases in funding since 2016-17.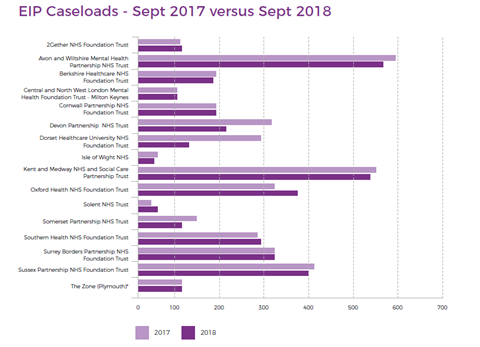 For 2018-19, Oxford AHSN found an average of 83 per cent of referrals in the south of England were seen within two weeks, which is higher than the national requirement of 53 per cent.
However, the document noted that, while EIP teams in the south have "significantly improved waiting times and increased access… these improvements had been made despite the majority of teams not receiving any increase in funding".
It added: "With the exception of the eight [clinical commissioning groups] in Kent and Medway and four CCGs in Hampshire, none of the 38 CCGs in the south of England have made funding increases to EIP this year or where funding has been given to provider[s] it has not reached the EIP front line.
"Without this investment the vision of the Five Year Forward View for Mental Health will not be realised."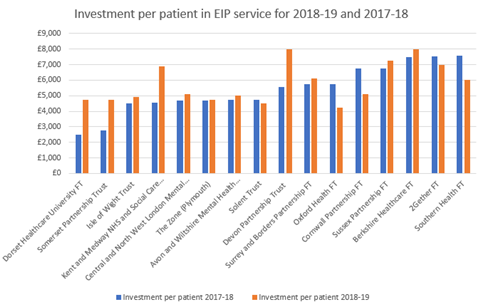 An Oxford Healthcare FT spokesman said: "There is a funding gap for mental health services, and we are working closely with commissioners to try to address that."
Surrey and Borders Partnership FT said, although it had benefited from commissioners' "repeated investment", demand for EIP services had increased when the service provision was extended to cover people aged up to 65.
A Southern Healthcare spokeswoman said the report's data on investment did not cover all service spend "such as estates and wider trust's cost" and claimed, at a gross level, the trust invests around £8,400 per patient in the service.
An NHS England spokesman said: "EIP services across the country, including in the south, are seeing an increasing number of people, in good time. Decisions on individual service costs and case management are not forced on local areas, who are free to decide their preferred approach.
"But NHS England has in fact invested an additional £40m each year since 2015 in EIP services, with an added annual allocation rising to £70m."
NICE concordat EIP service definition:
According to guidelines, a NICE recommended early intervention service should offer and deliver the below treatments:
Cognitive Behavioural Therapy for psychosis
Family interventions
Physical health assessments
Clozapine (if two antipsychotics have proven ineffective)
Wellbeing support (eg: eat healthily, physical activity, stop smoking)
Education & employment support
Carer focused education & support
Source
Information shared with HSJ