SRCL pursuing legal claim against NHS England over contract dispute
Company says the NHS owes it £2.5m
£166m-turnover firm recorded £18.5m loss in most recent accounts
A US owned clinical waste firm is suing the NHS for millions of pounds in unpaid bills, HSJ has learned.
SRCL has begun legal proceedings against NHS England over what it claims are sums owed totalling £2.5m.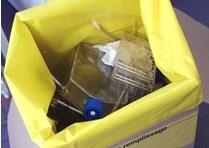 Clinical waste services are the core business of SRCL – a UK based firm wholly owned by US supplier Stericycle. SRCL also runs patient transport services, medical couriering, patient communications and "digital healthcare solutions". SRCL, based in Leeds, had a turnover of £166m in 2015 in the UK.
An SRCL spokesman said: "I can confirm that SRCL is pursuing a claim against NHS England. The claim relates to the non-payment of services for healthcare waste by NHS England."
No court date has been set.
SRCL's latest annual report, submitted to Companies House in October 2016, showed a post-tax loss of £18.5m in 2015, after making a £3.6m profit the previous year. The report noted a "significant impact on business profitability" from patient transport and medical courier services under its ERS Medical brand.
It said the company had set aside £13.8m for exceptional expenses, including "termination fees" and "provisions for potential legal disputes following exit".
A public relations firm representing SRCL approached HSJ in the summer, making a case for the NHS to pay more for clinical waste services or risk compromising on safety via using providers that would not dispose of sometimes hazardous waste properly.
The PR company estimated the value of the clinical waste business in the English NHS at £70m.
The firm did not mention the legal action against NHS England.
A spokesman for NHS England gave no details about its response to SRCL's claim and said: "As matters are now before the courts, it would be inappropriate to comment further."
SRCL has also experienced difficulties with some of its patient transport contracts. In one case, its annual report said, "significant challenges around securing payment" resulted in a dispute and "ERS Medical serving notice and exiting the contract in August 2016".
The report also described a "significant disconnect" between "what is being procured by clinical commissioning groups and what is actually required as a service delivery". This "results in strain on customer relationships and contracts to be reviewed for pricing and/or sustainability".
However, it is not clear whether this refers to patient transport or clinical waste services.
The report added that "a strategic decision has already been made to work with one of our largest customers to exit the contract in 2017 and it to be re-procured".
Although the contract was not named in the 2015 accounts, parent company Stericycle's second quarter results for 2017 said the firm "will exit patient transport in the UK by year-end".