Cut and paste
The financial position of the NHS provider sector had a familiar feel to it after the first quarter of 2018-19.
Despite regulators committing to breakeven in the planning guidance, trusts were again reporting a combined deficit of around £800m after three months, and officially forecasting for this to reduce to £500m-ish by year end.
Trusts' cost improvement plans average out at just over 4 per cent, and more than a quarter of the savings made so far have been non-recurrent. It's almost a cut and paste job from 2017-18.
Judging by last year's trend, we can expect another year-end deficit of around £1bn. And with no commissioning "risk reserve" in place, it's unclear how this is going to be covered off (further capital-to-revenue transfers, anyone?).
The chart below shows the combined deficit in the last three years. It assumes "provider sustainability funding" (PSF) is distributed each quarter in four equal parts, to adjust for the uneven phasing.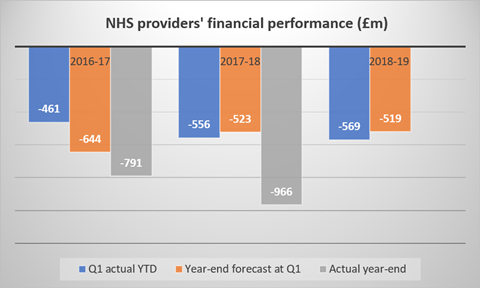 Underwater
What was different about this report was NHS Improvement's acknowledgement of the underlying position – which is estimated to be a deficit of around £2bn, if we assume that PSF is made recurrent.
The regulator has privately accepted this position for a while, and it's probably no coincidence that it's finally come out under a new health secretary (it's in the interests of a new boss to emphasise the extent of the problems they inherit).
This means the NHS will be starting the first year of the long-term plan from an underwater position. This was also the case with the Five Year Forward View, for which the finances quickly unravelled.
Quiet tweaking
There appear to have been some quiet tweaks to PSF allocations in 2018-19.
Several trusts have been allocated less than money than last year, despite the fund growing in size from £1.8bn to £2.45bn this year.
This includes trusts forecasting a surplus, such as Oxford University Hospitals Foundation Trust, but also trusts deep in deficit, such as Northern Lincolnshire and Goole FT.
I've asked NHS Improvement to explain this, but had no response so far.
Name only
For the first time, NHSI's quarterly report includes the financial performance of the new "integrated care systems" (ICS).
Eight of the ICSs, including Greater Manchester and Dorset, have agreed to link their PSF money to "system control totals" in 2018-19.
The other six, including Lancashire and Buckinghamshire, remain ICSs in name only as PSF is still attached to the performance of individual organisations.
Headhunting
NHS England and NHS Improvement have now published the job advert for the new chief financial officer (CFO) role, along with adverts for 11 other positions on the new "executive group".
The process is behind schedule, and Paul Baumann has agreed to stay on as CFO at NHSE until mid-November before moving on to Westminster Abbey.
It's unclear whether Elizabeth O'Mahony, his counterpart at NHSI, wants to fill the new role, or whether she is favoured for it.
But interestingly, headhunting firms have been hired for the CFO and seven regional director roles, but not the remaining four positions.
Capital v Revenue
In one of his first big interviews as health secretary, Matt Hancock suggested to the Today programme that major improvements to NHS technology will be paid for out of the additional £20.5bn of revenue promised earlier this year.
This soon had shadow health secretary Jon Ashworth worked up and issuing a press release about inadequate resources.
But I suspect this isn't correct, and technology proejects will continue to be funded from capital budgets (which have yet to be announced). The Department of Health and Social Care went quiet when asked to clarify.
Lawrence Dunhill is a bureau chief for HSJ.