Department of Health and Social Care allocates £760m capital funding including for hospital reconfigurations
Nearly half will go to fund major changes at Shrewsbury and Telford Hospitals Trust
Forty projects funded in total
Further £150m to be released for "efficiency" and technology programmes
The government has today allocated £760m capital for building projects, including a major acute reconfiguration in the Midlands, and another £150m for "efficiency" investments.
The money comes from Department of Health and Social Care capital funding announced last year, amounting to £3.5bn between now and 2022-23.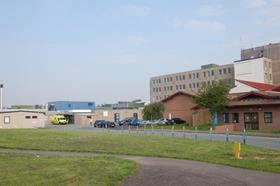 Health and social care secretary Jeremy Hunt also said the government planned to announce "one large scale scheme… every year", depending on "high quality plans coming forward".
Today's allocations are also to be spent over several years.
By far the biggest project announced today is for Shropshire, Telford and Wrekin, which is set to receive up to £312m for major changes at Shrewsbury and Telford Hospitals Trust. There are another 39 smaller projects (see table).
The much delayed Shrewsbury and Telford reconfiguration will see the Shrewsbury hospital become the main urgent and emergency care site and Telford focus on planned care, while retaining a 24 hour urgent care centre. Under the plans, which remain subject to consultation, the sites would receive major development and expansion.
The second largest allocation is to Somerset sustainability and transformation partnership, with up to £79m allocated.
In addition to the £760m, the DHSC said it would "release" £150m for three programmes aiming to improve efficiency. They are: more use of e-rostering; energy efficiency programmes; and improvements to pharmacy IT systems, e-prescription and medicine administration systems.
Mr Hunt said: "As the NHS approaches its 70th birthday [in July], we are backing it with one of the largest capital programmes in NHS history…
"Further major projects are also under consideration across the country and we intend to announce one large scale scheme the size of the Shrewsbury and Telford plan every year based on high quality plans coming forward from local NHS leaders."
Forty projects allocated money as part of the £760m by region
| NHS England region | STP | Scheme value |
| --- | --- | --- |
| North | Lancashire and South Cumbria | Up to £31.2m |
| North | West Yorkshire | Up to £2m |
| North | West Yorkshire | Up to £1.5m |
| North | West Yorkshire | Up to £15.0m |
| North | West Yorkshire | Up to £6.1m |
| North | Humber, Coast and Vale | Up to £7.5m |
| Midlands and East | Shropshire and Telford and Wrekin | Up to £312m |
| Midlands and East | Derbyshire | Up to £6.5m |
| Midlands and East | Black Country | Up to £3.3m |
| Midlands and East | Black Country | Up to £9m |
| Midlands and East | Norfolk and Waveney | Up to £0.6m |
| Midlands and East | Suffolk and North East Essex | Up to £69m |
| Midlands and East | Suffolk and North East Essex | Up to £3.4m |
| Midlands and East | Suffolk and North East Essex | Up to £14.7m |
| Midlands and East | Milton Keynes, Bedfordshire and Luton | Up to £6m |
| Midlands and East | Milton Keynes, Bedfordshire and Luton | Up to £1.1m |
| London | North West London | Up to £2.1m |
| London | North West London | Up to £2.1m |
| London | North Central London | Up to £0.3m |
| London | South West London | Up to £9.8m |
| London | South West London | Up to £2.15m |
| London | South West London | Up to £11.1m |
| London | South West London | Up to £2.7m |
| South | Kent and Medway | Up to £6m |
| South | Kent and Medway | Up to £8.5m |
| South | Kent and Medway | Up to £1m |
| South | Kent and Medway | Up to £2.5m |
| South | Kent and Medway | Up to £1.5m |
| South | Sussex and East Surrey | Up to £19.3m |
| South | Surrey Heartlands | Up to £0.5m |
| South | Devon | Up to £13.3m |
| South | Devon | Up to £26.2m |
| South | Somerset | Up to £79.4m |
| South | Bristol, North Somerset, South Gloucestershire | Up To £7.5m |
| South | Bristol, North Somerset, South Gloucestershire | Up to £2m |
| South | Hampshire and Isle of Wight | Up to £3m |
| South | Hampshire and Isle of Wight | Up to £10.3m |
| South | Hampshire and Isle of Wight | Up to £17.5m |
| South | Gloucestershire | Up to £39.5m |
| South | Buckinghamshire, Oxfordshire and Berkshire | Up to £2m |
Government promises long term NHS plan this year
1

2

Currently reading

Government allocates £760m capital funding

3