Long term plan for NHS could include widening NHS England "ringfence"
Policy was created by George Osborne in 2015 but led to large cuts to arm's length body budgets
Long term plan will be announced before NHS's 70th anniversary in July
Ministers could scrap the "ringfence" around the NHS England budget to include other arm's length bodies as part of the government's long term funding plan, HSJ has been told.
Multiple sources close to the discussions about the new plan have said talks include widening the "ringfence", which was controversially created by George Osborne in 2015 to help swell NHS England's budget.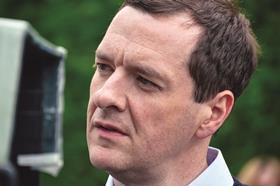 As a result, organisations such as Health Education England, the Care Quality Commission and Public Health England have been forced to find 20 per cent cuts up to 2020 with savings often affecting NHS providers.
The cuts have included services deemed crucial to delivering transformation and ensuring sustainability, such as public health, regulation, and training and education. Capital budgets have also been outside the ringfence.
HSJ has been told the government will reveal its funding envelope for the plan before the NHS marks its 70th birthday in July. This will include ambitions on performance but will not include a written detailed plan, which will be developed later by NHSE and others ahead of the November budget.
The Treasury, Number 10 and the Department of Health and Social Care are leading discussions over the level of funding required and both Jeremy Hunt and Theresa May have hosted roundtable discussions with system leaders in recent weeks.
It is expected the announcement will deliver real terms funding increases for the NHS but sources have told HSJ it will be below the 4 per cent a year growth some commentators have called for.
The 2015 ringfence was part of the Treasury's settlement with NHSE to provide funding for the Five Year Forward View but it prompted a heated debate over whether the government had fulfilled the spending commitments in its 2015 election manifesto.
It is thought to be unlikely that the ringfence would be reapplied to the entire DHSC budget, but bodies such as PHE and HEE will be regarded as priorities, as well as the capital budget. It is unlikely the ringfence will be extended to social care.
Speaking at a Westminster Health Forum event yesterday, NHS England strategy and transformation director Ian Dodge said there needed to be a much bigger focus on health inequalities.
He said: "You can't actually solve those unless you more effectively engage some of our most deprived communities, eg smoking cessation around Blackpool is a good case in point. Without prejudging the [long term] plan we would need to continue to work up more effective ways in supporting Blackpool CCG in being able to engage with those communities and offer comprehensive services, which has been a challenge for local authorities given that they fund smoking cessation and the health funding ringfence has come off."
On workforce Mr Dodge said: "How do we get numbers, the obvious thing is to try and fix the retention challenge and the question of people's hope for the future of NHS is not immaterial here and if there is a long term funding plan that may help."
Richard Murray, policy director at The King's Fund and a former DHSC official, said: "We've always taken the line that trying to carve up bits and pieces of the DHSC budget isn't helpful and leaves too many important areas on the wrong side of the line.
"There are other voices that have said this as well. But it does need thinking through and may leave some on the NHS side… wondering exactly what this means – after all, they have little influence over many of these other areas of spending. It's the right thing to do but does change the nature of the beast in some ways."
On the overall funding package for the NHS, Mr Murray said attention will be on delivery once funding is increased.
He added: "Can the NHS really recruit large numbers of new staff quickly? If not, this will limit how fast the service can ramp up spending in the early years. Though something must be said at the 70th birthday, sorting all this out may push some of the detail back to later in the year and push back some of the money until the NHS can find the extra staff."
Government could scrap 'NHS England ringfence' in long term plan
1

Currently reading

Government could scrap 'NHS England ringfence' in long term plan

2

3