The Treasury has commited an extra £3.5bn to NHS capital spending over the next five years, with the service expected to raise the same sum itself through land sales.
Chancellor Philip Hammond announced the sum this afternoon, saying £2.6bn of the £3.5bn would be allocated through sustainability and transformation partnerships.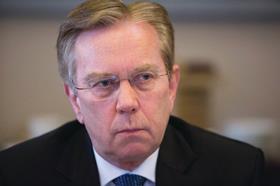 The recipients of the first £260m share of this were announced today.
The Treasury documents released this afternoon set out the 12 initial winners of the first 10 per cent of £2.6bn allocated by the department.
These are subject to business case approval by NHS England, NHS Improvement and finally the Department of Health.
The documents said: "This funding [the £2.6bn] will also allow the NHS to increase the proceeds from selling surplus NHS land and buildings to at least £3.3bn."
Sir Robert Naylor's review into NHS estates recommended £10bn in extra funding be found for capital projects: £5bn for schemes within STP plans and another £5bn to address backlog maintenance.
The £3.5bn from the Treasury and £3.3bn from land sales leaves £3.2bn to be raised from private investment.
The Naylor report said the backlog maintenance figure was "conservative".
Analysis by three leading health think tanks said £2bn of the £5bn was for trusts with "high" or "significant" maintenance risks.
Sir Robert told HSJ the £3.3bn in land sales was "deliverable" and his report said an upper limit of £5.7bn capital receipts was possible.
He said institutional investors could be persuaded to pay for capital projects at an interest rate of 2 per cent, considerably lower than the rate paid for previous private finance initiatives.
Sir Robert said: "Like all major projects the challenge will be in the implementation stage rather than the strategy setting. A key task is to align the development of STP service plans with the investment and building plans.
"Following on from the prime minister's endorsement of my review during the election campaign, I am delighted that the most important element of my recommendations, additional funding, has been agreed."
NHS providers have been allowed to transfer capital budgets to revenue in recent years and have shifted more than £1bn in this way.
Twelve STP projects receiving first wave of extra capital funding
Barnsley Hospital Children's Emergency Department and Assessment Unit scheme (South Yorkshire and Bassetlaw STP) to support the rapid assessment and treatment of children.
Doncaster Urgent and Emergency Care scheme (South Yorkshire and Bassetlaw STP) to expand, redesign and improve emergency care.
Leeds Community Child and Adolescent Mental Health Inpatient Unit scheme (West Yorkshire STP) to provide a new specialist inpatient unit for young people and children with mental health conditions.
Chesterfield Urgent Care scheme (Derbyshire STP) to provide a modern urgent care facility at Chesterfield Royal NHS Foundation Trust.
Russell's Hall Hospital Dudley Urgent Care Centre scheme (Black Country STP) to better integrate their urgent and emergency care Department.
Birmingham Children's Hospital Emergency Department scheme (Birmingham and Solihull STP) to increase emergency care capacity and improve patient experience.
South Warwickshire NHS Foundation Trust Out of Hospital Care scheme (Coventry and Warwickshire STP) to provide an integrated information system between local trusts.
Mid and South Essex Acute Hospitals reconfiguration scheme (Mid-and-South Essex STP) to upgrade facilities to help meet increasing demand.
South West London and St George's NHS Mental Health Trust Estates Modernisation scheme (South West London STP) to improve inpatient care and free up land for housing.
Frimley Out of Hospital Integrated Care Hubs scheme (Frimley Health STP) to enable patients to be treated out of hospital.
Bracknell Forest Heathlands scheme (Frimley Health STP) to build a new care home for elderly mentally infirm patients.
Chiltern and Aylesbury Vale Primary Care Hub scheme (Buckinghamshire, Oxfordshire and Berkshire West STP) to allow the expansion of community teams and care provision outside of traditional hospital settings.
The HSJ Strategic Estates Forum is taking place on 20 March at BMA House in London. This is a high-level strategic forum that brings together estates directors, STP estates leads and trust board leaders responsible for the estates function who are developing strategic plans for their organisations and local health economies. The focus of the forum is on issues such as the delivery vehicle for the Naylor Report, the creation of Project Phoenix, advice on establishing SEPs (Strategic Estates Partnerships) and assessing progress of STP estates plans. Sir Robert Naylor, National Adviser, NHS Property and Estates; David Williams, Director General of Finance, Department of Health and Simon Corben, Head of Profession, NHS Improvement are all confirmed as keynote speakers for the event. Register your interest for this free-to-attend event on our website: https://strategicestates.hsj.co.uk/register-your-interest-attending
Chancellor's funding announcement 'plugs some holes' in NHS budget
1

2

Currently reading

Government pledges £3.5bn capital to NHS over next five years

3

4