The Prime Minister has said the government will reveal a new "sustainable long term plan" for the NHS over the next year, which will be backed by a "a multiyear funding settlement".
Theresa May backed calls in recent months from Jeremy Hunt for a long term funding settlement and an "end to annual top ups of the NHS budget".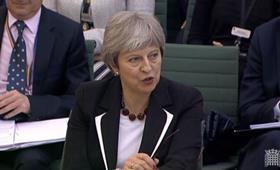 She said there also needed to be a new reform plan, which "should build on the Five Year Forward View but look beyond it".
Speaking to MPs on the Commons liaison committee she said: "We need to get away from the annual approach to the NHS budget and recognise for the NHS to plan effectively we need to get away from those annual top ups of the budget that we have seen and we need to have a sustainable long term plan and that should build on the work of the Five Year Forward View but look beyond it.
"So this year and in advance of next year's spending review I do want to come forward with a long term plan. I want that to be done in conjunction with leaders of the NHS, with clinicians and health experts, and the government will provide a multiyear funding settlement in support of the plan, consistent with our fiscal rules and balanced approach, but ensuring the NHS can cope with the rising demand ahead of the spending review."
On timing she referred to the current NHS 70th birthday plan, and said: "I would suggest we can't wait until next Easter, in the 70th year we need an answer."
She said issues the plan should address included integration of services, spreading "excellence", "accountability", and people's personal responsibility for their health.
Pressed on whether there would be more money for the NHS, Ms May said: "What I want to do is develop a long term plan for the NHS and ensure that is properly resourced."
The PM's comments follow Mr Hunt on Sunday reiterating calls for a 10 year funding settlement to end what he called "the rather crazy way we have been funding the NHS over the last 20 years which is basically feast or famine". At that point he said the idea of a 10-year settlement was his "personal view".
Sunday Times reports at the weekend suggested the prime minister was planning to announce a "70th birthday present" spending plan for the NHS in its birthday year. The 70th anniversary is this July.
Before last year's budget NHS England chief executive Simon Stevens called for the NHS to have a £4bn a year increase in spending if the service was to maintain performance as well as developing services.
Government promises long term NHS plan this year
1

Currently reading

Government promises long term NHS plan this year

2

3