GP practices in the richest areas will be granted a 1.2 per cent increase in their target commissioning budgets this financial year, analysis by HSJ reveals.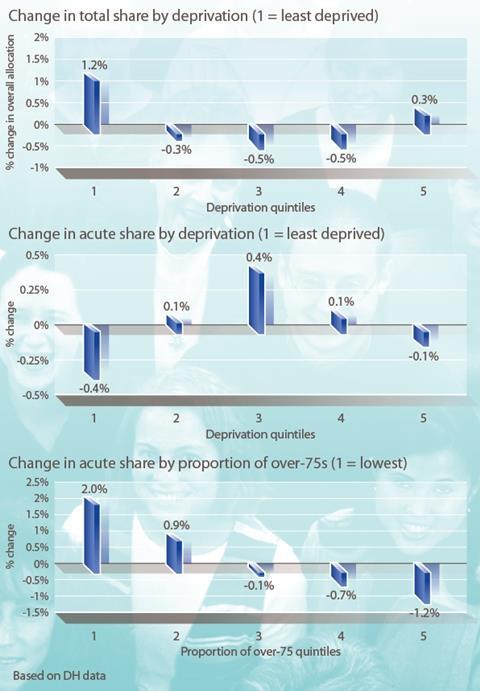 GP funding formula favours doctors in richest areas
The increase - worth up to £1.2m to an average practice - follows the Department of Health's adoption of a new allocation formula for determining the target commissioning budget of each GP practice.
A 2 per cent change in target is quite a lot when you aggregate it up to several practices
Details of the new formula, which includes substantial changes to how the need for acute and mental health services is estimated, have not yet been published. But its underlying calculations form the basis of a "toolkit" the DH has designed to help primary care trusts set "fair share" budgets for each of their practices.
HSJ has analysed the impact of the changes across a sample of all 35 comparable PCTs with more than 1,800 GP practices, which together comprise over a fifth of all practices.
The analysis shows that 20 per cent of practices will have their target allocations changed by 5 per cent or more, while entire groups of practices with particular demographic traits will experience changes averaging up to 2 per cent.
The revised formula for allocating acute commissioning budgets was designed by the Nuffield Trust. Director Jennifer Dixon told HSJ the model anonymised hospital data on the actual diagnoses of patients on each practice's list to produce a more accurate prediction of an individual's annual cost to the NHS.
She said that was "far more powerful" as a predictor than demographic data such as deprivation and age. She said: "There will be a huge overlap [with deprivation and age] but we did find the diagnostic data was more powerful, so the importance of deprivation will have changed."
At present, practice based commissioning budgets are merely "indicative" and optional. But the Conservatives have pledged to turn them into compulsory "hard cash" budgets and allow practices to outsource their commissioning responsibilities to private companies, if they win power on 6 May.
Ms Dixon said that if policy makers decided to take that further and move in the direction of US style health maintenance organisations by allocating each individual their own portable health budget, Nuffield's advances mean that is technically just a "short step away" from being possible.
Academics have raised concern that such portable budgets could lead to "cream skimming" of patients most likely to underspend their allocation.
HSJ's analysis
NHS Confederation director of policy Nigel Edwards told HSJ: "Two per cent [change in target] is quite a lot when you aggregate it up to several practices. This starts coming into its own when groups of practices start offering services to patients with particular conditions. Then it can become really quite significant."
The biggest changes have been made to how the need for acute hospital services is estimated. Instead of using traditional and sometimes disputed proxy indicators for need such as age and deprivation, the new formula uses actual patient diagnosis data at the GP practice level.
That change results in swings in the target acute allocation for practices with skewed age profiles.
When HSJ's sample of practices was divided into fifths according to the proportion of patients over 75, the new acute formula awarded those with the lowest proportion an average 2 per cent increase in their acute targets per head, while those with the highest proportion had their targets cut by an average 1.2 per cent.
Significant changes to acute target budgets were also evident for practices with disproportionate numbers of under-15 year olds. Practices with the lowest proportion lost 1.1 per cent from their per head target, whereas those with the highest proportion gained 0.7 per cent.
When divided into groups of five according to deprivation levels, the changes in the acute formula resulted in a 0.4 per cent gain for the middling wealth group, balanced by a similarly modest loss for the wealthiest fifth.
But once combined with other parts of the formula to produce a total target "fair share", practices in the richest fifth benefitted the most, with a 1.2 per cent increase in their target per head. Practices in middling wealth areas lost by around half a per cent and those in the poorest fifth gained by 0.3 per cent.
This is likely to cause concern among some PCTs, as there has been speculation that the new formula could be applied to PCT allocations in 2011-12.
The latest DH data shows that even after "fair share" targets have been adjusted by the new formula, practices in the most affluent areas "overspend" their "fair share" targets while practices in the most deprived "underspend".
A spokeswoman for the DH said the sample analysed by HSJ was small and so the patterns found could be coincidence.