The past decade's rapid expansion in the number of nationally set "payment by results" prices for NHS services is unsustainable - and "may already have gone too far", Monitor's pricing director has told HSJ.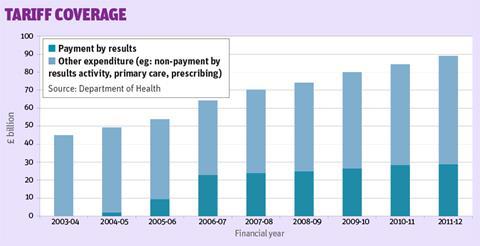 Tariff coverage
Jason Mann, interim director of pricing at the health sector regulator, said he could foresee a future in which the number of "tariff" prices for hospital services was reduced "quite a lot, by virtue of the fact that it's almost too complex at the moment".
The past 10 years have seen vast increases in both the scope and complexity of the payment by results system.
Read the briefing
Over that period, the value of healthcare activities for which there are fixed NHS unit prices has gone from nothing in 2003 to nearly £30bn in 2012, according to King's Fund research.
Until this year, responsibility for setting tariff prices sat with the Department of Health, but that responsibility passed to Monitor under the government's health reforms.
The regulator and NHS England recently published a discussion paper setting out a sweeping "case for change" of the current payments system.
Asked by HSJ if the NHS had reached the limits of what could be achieved by applying activity based tariffs to healthcare, Mr Mann said: "I would say that the trajectory of travel − of starting with 60 prices in 2003 or 2004, going to over a thousand, [and] I think it's over 2,500 now − is not sustainable.
"It's not really possible to centrally set those prices and hope to get them all right. I don't know how many you're going to get right and how many you're going to get wrong, but you're not going to get them all right ever if you do that."
The "concept of centrally setting thousands and thousands of prices" was therefore "one that we need to think about very carefully", he continued. This approach was "fraught with risk at the centre", because "if you get it wrong in either direction" it could place risks on one or another group of players in the system.
He added: "For the avoidance of doubt, I think [this approach] always has a place, but my suspicion is it may have already gone too far. It may not have done, but it may have gone too far already."
Reducing the number of tariff prices did not necessarily mean reducing the scope of the tariff, he noted, adding: "You might well reduce the number of units of activity by increasing the scope of what they cover."
Mr Mann's comments are included in an in-depth HSJ briefing on the reform of payment by results, published today.
Mr Mann emphasised that his was just one view, and Monitor and NHS England were at an early stage in a long and genuine process of consultation about future reforms.
However, he said he could "see a world" in which elective services continued to have activity based tariffs, but other areas of care had different payment regimes.
Mr Mann suggested, for example, that the pricing of urgent services like those provided by accident and emergency departments might well have "some capacity element" − meaning an A&E department might not be paid according to activity, but for maintaining capacity to meet certain levels of demand.