Hinchingbrooke chair "relatively agnostic" about merging with Peterborough trust as long as key services and patient interests are protected
Joint working group to examine options for closer working between the trusts
The group could develop a business case for Peterborough to acquire Hinchingbrooke
Local MP has begun campaign to block a merger
Hinchingbrooke Health Care Trust's chair has said he is not against "a merger" with Peterborough and Stamford Hospitals Foundation Trust – as long as the hospital retained its major services.
The prospect of Peterborough acquiring Hinchingbrooke has arisen again after they jointly announced plans this week to consider their "potential organisational form" as part of a review of how the trusts could work together more closely.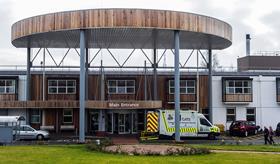 This led to accusations, principally from Huntingdon MP Jonathan Djanogly, that Peterborough was planning to take over Hinchingbrooke, which would result in the district general hospital losing key services such as its accident and emergency department.
Hinchingbrooke chair Alan Burns told HSJ he was "relatively agnostic" about "merging" with Peterborough, providing the business case stacked up on "clinical grounds and benefits to patients" as well as financially.
"We are not here to protect an organisation. We are here to protect our services for patients," he added.
He said he had been told by Monitor that if such an arrangement were to go ahead, it would technically be an "acquisition" by Peterborough of Hinchingbrooke, because the former is a foundation trust and the latter is an NHS trust, rather than a merger.
He said he would be against the removal of A&E and maternity, because there was a good clinical case to keep them, and that he largely supported Mr Djanogly's campaign to retain key services at Hinchingbrooke.
"He is a very good MP. We have lots of conversations with him. We would be very close to his position, but we are a bit more agnostic about a merger," said Mr Burns.
The trusts signed a memorandum of understanding in December to investigate "the merits of further collaborative working", he said.
As a result of the memorandum, the two trusts have established a joint working group, headed by Hinchingbrooke chief executive Lance McCarthy, which is due to report in April.
The group will examine what savings could be achieved through more collaborative working, particularly focusing on back office services; how the trusts could collaborate clinically to improve services; and the "potential organisational form" of the two trusts.
Mr Burns said: "The third area is to look at organisational form, and a merger is one of a number of options in there, from having joint directors… to a full scale merger."
Mr Djanogly said he welcomed "sensible collaboration [but] the potential loss of services would be clearly unacceptable".
He added: "Local concerns are that Peterborough would move services from Hinchingbrooke. This could lead to sustainability issues for Hinchingbrooke. My understanding is that this process could include A&E, obstetrics, paediatrics and maternity.
"Whilst investigating joint working between the hospitals seems entirely sensible, I intend to lead a strong campaign against a merger or acquisition of our hospital by Peterborough."
Peterborough declined to comment on whether it was seeking a merger.