Former NHS Improvement boss describes Department of Health policy as "totally pointless"
Jim Mackey says the regulator tried to intervene on the issue
"Outrageous" that hospitals are having to delay payments to suppliers due to cash flow problems
A "ridiculous amount of stupid contractual challenge effort" is still going on 
Jim Mackey has criticised the Department of Health for applying "totally pointless" interest rates to the bailout loans that support financially struggling NHS hospitals.
The former chief executive of NHS Improvement said it was "absolute madness" that trusts in financial special measures are being charged up to 6 per cent interest on loans from the DH.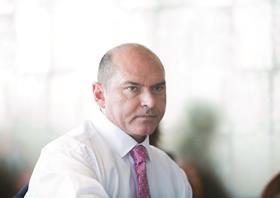 Mr Mackey also raised concerns about cash flow problems in the system, and said it was "outrageous" that hospitals are being forced to delay payments to their suppliers.
Earlier this year HSJ highlighted the huge debts being accrued by troubled providers, which at some trusts have reached more than £100m. Interest rates on the loans range from 1.5 to 6 per cent, with those in special measures charged higher rates.
Mr Mackey said the regulator had tried to intervene on the issue but "hadn't managed to sort it out properly".
He said: "It's absolute madness. You can understand a view for a short period where people are saying 'oh well they've got into trouble, they should be penalised for it'. But when you are talking about the sums involved and the complexity in the system, it's just stupid.
"It's actually all just washed out within the [DH] group. I don't believe any board would be looking at that and saying, 'we've got to pay the wages next month but it's going to cost us 6 per cent, should we say no?'
"It's not changing any behaviour. It's totally pointless."
Dozens of hospital providers with budget deficits rely on cash support from the DH to maintain payments to staff and suppliers. Previously it was given as public dividend capital with no expectation of repayment, but in 2014-15 the DH started only offering repayable loans.
Asked if the debts would need to be written off, Mr Mackey said: "We're going to have to rebase the balance sheet at some point, when we've got a sustainable plan. But again, when you say that, there will be people out there who will say: 'How do I game that? How do I get ahead of that and get most advantage out of that?'"
Cash flow has become so tight that dozens of trusts are now routinely having to delay payments to their suppliers, despite a legal requirement to pay invoices within 30 days.
Asked if he was concerned about this, Mr Mackey said: "Absolutely. It's outrageous. If you look at it objectively, you've got providers who can't pay suppliers, which might potentially put a supplier out of business, because a lot of providers do try and use local firms where they can."
Asked if the DH was to blame for introducing stricter rules around cash support, he said: "You can sort of see why they think it might be the right thing to do because they think it would change behaviour… It doesn't change behaviour. The thing that will change behaviour is when people think they have got a sustainable plan and most people can deliver it."
He said cash flow problems had also arisen from delayed payments to trusts from the sustainability and transformation fund, which is controlled by the Treasury, as well as a "ridiculous amount of stupid contractual challenge effort going on" with some commissioners "holding some money back for an argument".
'Ruthless' rationalisation of regulators and CCGs could save £1bn, says Mackey
1

2

3

4

Currently reading

Interest rates on bailout loans 'absolute madness', says former NHSI boss