Former NHS Improvement chief calls for emergency and bed occupancy to be prioritised
New money in budget is "serious investment", says Jim Mackey
NHS cannot hit elective target but should target long waiters
Mr Mackey admits feeling "out of my depth" when he took over at NHSI
Jim Mackey has warned that negativity over the NHS's budget settlement will have "pissed off" ministers, arguing the £1.6bn of new funding was a "serious investment" which could deliver real improvements – but only if stabilising chaotic emergency departments was prioritised.
The former NHS Improvement chief executive, who has now returned to Northumbria Healthcare Foundation Trust, said the new money could enable some progress to be made on long elective waits. But, he said, it would not be enough to ensure the NHS hits the 18 week referral to treatment target.
On the new money in the budget, Mr Mackey said: "We've managed to end up in a place which we will hopefully get out of soon, where the service thinks we don't have enough money to do much. We've got £1.6bn, plus a funded pay award, plus capital. There's no other part of government that has got that kind of investment.
"There's a danger that we've talked ourselves out of the game and we've got to regroup on that quickly.
"We've got an investment that none of us would think would be enough, and none of us should have thought we'd get enough because that would just be frankly bloody stupid, but we've got a serious investment and we've got to get the best out of it.
"If I was… the chancellor or prime minister and you put that kind of money in and all you get is all this negativity, I'd be really pissed off."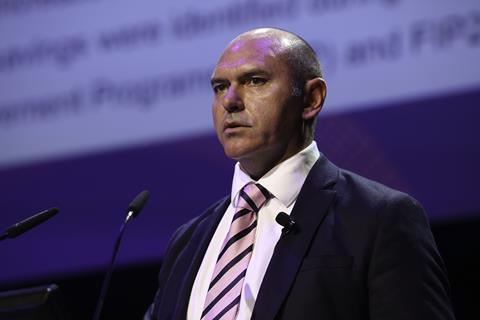 He said that although "nobody is comfortable with the size of the [elective] waiting list", it would not be possible to increase access to planned care until emergency departments were "stabilised".
"If anybody says they're going to really ramp up elective care and they're in chaos at the front door, they're running at 90-odd percent occupancy and their emergency department is out of control, they're not going to do it," Mr Mackey said.
HSJ has previously reported that ministers intend to spend £1bn of the new funding next year on elective care with the rest funding accident and emergency.
Last month's budget document said the new money should enable the NHS to hit the A&E four hour target next year and "make inroads into waiting lists".
Mr Mackey said: "The new money… can't mean we deliver all of the standards and balance the books and invest in mental health and primary care and cancer and all those things – it's not enough to do all of that.
"But it's also the case that it's not pointless."
He said although the service could not hit the 18 week target, it could agree improvements with the government, for example to "maybe [get] rid of 12 month waits… or reduce 18 week waiters by a set amount."
Mr Mackey emphasised that high levels of occupancy were "unproductive".
"We've got to decompress somewhere – lots of good things start happening when you do that. You start doing elective work, the staff are less stressed, you need fewer last minute staff. Everything just starts to kerplunk. You get ripple effects of increased productivity," he said.
Asked about speculation that NHS England chief executive Simon Stevens' public call for more money ahead of the budget resulted in a worse deal for the service, Mr Mackey said: "I think everybody did what they did with the right intention.
"Whether we would have got more or less as a result of his intervention, or what Jeremy [Hunt] said, or what I said or whatever, only the chancellor and the PM would know.
"Simon is incredibly effective at what he does. A lot of the social care money that was produced – he was behind a lot of that lobbying. You can see why he did what he did and you can talk to him or others about whether it was effective or not."
"I was absolutely out of my depth when I arrived"
Reflecting on his tenure as NHSI chief executive, Mr Mackey admitted he was "out of my depth" when he took over two years ago, and said he played up to his reputation for being a blunt speaking Geordie.
"I've played to type a little bit," he said. "There's a little bit of theatre in all this.
"I arrived and it's all very intellectual; I'm surrounded by all these really clever people. If you're a jobbing provider chief executive, a lot of it is unnecessarily complex and it feels like it's not real and doesn't connect with what you're doing day to day.
"I've absolutely played to character on all that.
"I've set out to say disruptive things because the market needed disrupting. I've done that on a number of things. Some of that was deliberate and thought through.
"I was absolutely out of my depth when I arrived. It's a totally different world and it takes a bit of getting used to that.
"I have absolutely dropped a bollock sometimes… You don't really know until you read it back, and you think: 'Oh God, I should have said that differently.'"
Mr Mackey said although it had been "really hard", particularly on his family life, he did not regret taking the job – despite repeatedly saying he was looking forward to returning to Northumbria.
He said: "I thought I could make a contribution for a short period of time… I've chucked myself at it. I think I've made an impact, probably not as much as I would like to have made."
'Ruthless' rationalisation of regulators and CCGs could save £1bn, says Mackey
1

2

Currently reading

Mackey criticises NHS 'negativity' over budget

3

4