Regulators previously said the trust sector would need to breakeven in 2017-18
Jim Mackey says plans set by local providers aggregated to a deficit of £496m
NHS Improvement chief executive says small number of trusts account for most of the projected deficit
NHS trusts are predicting a deficit close to £500m this financial year, NHS Improvement chief executive Jim Mackey has revealed.
National regulators previously said the trust sector would need to break even in 2017-18, but the NHSI chief executive said at the NHS Confederation conference today that trusts' financial plans aggregated to a deficit of £496m.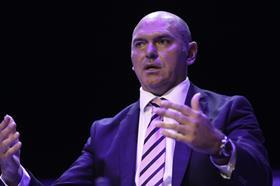 This is similar to the figure envisaged by NHS Providers earlier in the year.
Mr Mackey said 201 out of 233 providers had agreed their financial target "at initial plan", and a small number of trusts accounted for most of the deficit. Trusts will have to deliver average cost improvement plans of 4.3 per cent in order to meet the forecast.
He said the NHS "overall" – including the commissioning and provider sectors – had achieved "the impossible" in delivering a breakeven position in 2016-17. The provider sector ended the year with the deficit of £791m, which was within the £800m "risk reserve" held back from commissioning budgets.
Mr Mackey said the figures represent a "fantastic performance under incredible pressure". He said there are grounds for optimism on capital funding, as there has been assurance from the government about future funding levels.
However, the revenue outturn significantly breached the agreed maximum deficit of £580m, as well as the £250m that was targeted at the start of last financial year. It is not yet clear to what extent it was improved through non-recurrent measures, which do not improve the underlying position.
Mr Mackey said the NHS would move gradually back towards a system of "distributed leadership" and "earned autonomy".
However, he said this would not take the form of "earned autonomy in the old foundation trust way" but would increasingly apply to health "systems".