Extra cash will be needed to lift NHS pay cap, say Simon Stevens and Jim Mackey
NHS England and NHS Improvement chief executives tell MPs it would be hard to find the money "internally"
Comments come after Jeremy Hunt said pay restraint policy had been scrapped
The government will need to provide the extra cash needed to lift the public sector pay cap in the NHS, Simon Stevens and Jim Mackey have told MPs.
Appearing at the Commons health committee today, the chief executives of NHS England and NHS Improvement said if the cap was lifted the NHS will need extra funding.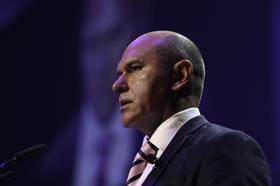 Their comments came after health secretary Jeremy Hunt told MPs earlier on Tuesday the 1 per cent pay rise cap was being scrapped as it was "no longer sustainable".
Mr Hunt said the pay restraint policy in the NHS since 2010 had been necessary to allow the service to recruit thousands of additional doctors and nurses, but he accepted the cap could not continue indefinitely.
Mr Hunt said: "Without pay restraint we wouldn't have 11,300 more nurses on our wards. We recognise it wasn't sustainable to carry on with the 1 per cent going forward and that's why next year we have been given the leeway to have more flexible negotiations."
After a follow up question pressing him on the cap, Mr Hunt reiterated "the pay cap has been scrapped" but stressed any change would be tied to productivity.
Mr Mackey's comments seemed to contradict the health secretary, as he told the committee it was "hard to imagine" that kind of spending increase could be funded internally.
Mr Mackey said due to the efficiencies the NHS has already made, any rise would need to be funded.
He said: "If that sort of thing does happen, it's my view that that needs to be funded.
"The NHS has given serious levels of efficiency; it's very hard to imagine how that kind of payroll would be internally financed."
Mr Stevens said: "The secretary of state has said earlier today in a sense the pay cap has been lifted, so the review bodies will be asked to give their advice, but ultimately policy is set by the government.
"We have said from the get go that over time it will be necessary for NHS staff to get rates of pay that are consistent with the rest of the economy.
"That does need to be funded."
Mr Stevens also hinted that more cash would be needed in chancellor Phillip Hammond's autumn budget next month to sustain the health service over the next few years, with allocation growth set to plateau.
He said: "Decisions on 22 November will determine the shape of the NHS next year and the year after"
Both leaders said delayed transfers of care had not been reduced quickly enough, but Mr Mackey said there was "still time to make an impact".
More funding needed to lift pay cap, warn Stevens and Mackey
1

Currently reading

More funding needed to lift pay cap, warn Stevens and Mackey

2

3