Business case for Project Phoenix to be signed off by ministers next month
Six lots for public/private partnerships expected to be advertised by end of the year
Major property deals between the NHS and private firms to unlock capital funds worth £5.7bn "at speed" could be signed off within weeks after being hit by delays.
Named Project Phoenix, six public/private partnerships will be created to help the NHS dispose of assets that are no longer required or fit for purpose.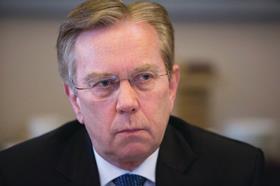 Plans drawn up by Community Health Partnerships were submitted to the Department of Health shortly before Easter. Approval of the business case was delayed by the general election in June and the fallout after the vote resulted in a hung Parliament.
Approval was also held up by the DH having to replace junior ministers who lost their seats, with Jackie Doyle-Price and Steve Brine appointed under health secretary Jeremy Hunt and minister of state Philip Dunne.
Sources have told HSJ the business case is expected to be signed off by ministers shortly after Parliament returns after summer recess on 5 September.
Once DH and Treasury approval has been obtained, the PPPs will be advertised in the Official Journal of the EU in six lots worth more than £3bn covering the North East, North West, South East, South West and two in the Midlands.
While the original plan had been to advertise the partnerships over the summer, with contracts announced in the autumn, the timetable is now likely to be pushed back until the end of the year.
HSJ revealed details of the plan in June as part of the government's response to the report on NHS estates by Sir Robert Naylor, who called for "a far more commercial approach" to managing assets to release much needed funds.
Sir Robert said £5.7bn could be generated if trusts maximised the value of land and buildings before putting them on the market.
Private companies will work with the NHS to achieve the best market price for sales without the requirement of upfront public investment, with profits shared between the NHS and its private partners.
Details of the profit split have yet to be revealed.
Graham Spence, commercial director of CHP, is due to present details of the project at the King's Fund next month, alongside Sir Robert and Simon Corben, director of estates and facilities at NHS Improvement.
The programme for the event said: "Led by Community Health Partnerships, Project Phoenix aims to provide a new public/private partnership estates model to deliver service transformation at speed.
"You'll learn about the project and how it could provide a financially sustainable solution for local health care economies."
Source
Information supplied to HSJ
Exclusive: Naylor 'delighted' at £3.3bn private investment offer
1

2

Currently reading

Multibillion NHS land sales plan to be approved next month