NAO says first capital allocations announced by Boris Johnson had "no clear relationship" to providers with the biggest repair bills
Some providers with huge repair bills missed out on funding
Calls for "coherent" capital strategy
Government auditors have highlighted a lack of correlation between the prime minister's capital funding announcements and those NHS providers with the largest backlogs of maintenance problems.
The National Audit Office said the first allocations announced by Boris Johnson after taking office, worth a total of £850m, had "no clear relationship" to providers with the biggest repair bills.
In a report on NHS capital expenditure, published today, the NAO highlighted the total cost of repair work, which increased to an estimated £6.5bn in 2018-19. More than half of that cost was linked to either "significant" or "high risk" problems.
Twenty providers with the largest backlogs account for almost half the total, the report said.
A subsequent allocation announced by Mr Johnson, of £2.7bn, went to six trusts which ranged from the third to the 38th largest in terms of backlog maintenance bills. The report noted the repair bills at some trusts, such as Imperial College Healthcare Trust, dwarfed those of the six trusts chosen, such as Princess Alexandra Hospital Trust.
Eight of the 20 trusts with the largest backlogs were allocated capital in the two announcements, with a further six given "seed funding" to develop projects further.
Although backlog maintenance was a criterion for the £100m in "seed funding" that was also allocated, including to Imperial, this money has been set aside for developments between 2025 and 2030.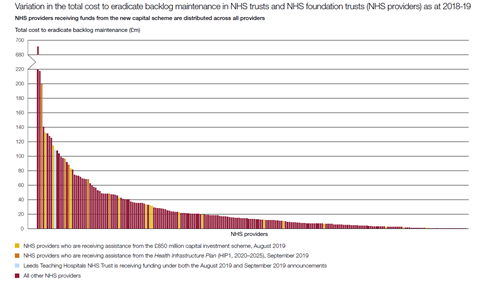 The report, released today, also summarised challenges across NHS capital planning and expenditure:
It suggested the Department of Health and Social Care was unable to give a measure of the impact of raiding capital funds in recent years (to prop up revenue spending) on patient services and healthcare services;
While there was an increased role for sustainability and transformation partnerships and integrated care systems in management of capital expenditure, "it may be difficult for them to gain the knowledge and skills to manage a complex process in such a short time"; and
The lack of a coherent long-term capital strategy.
The NAO also published a separate report raising concerns about the NHS' overall financial sustainability, and said there had been an over-reliance on short-term fixes.
Gareth Davies, head of the NAO, said: "To bring about lasting stability, the Department and NHS England and NHS Improvement need to move away from short-term financial fixes and provide longer-term solutions."
Meg Hillier, Labour MP and chair elect of the Parliamentary committee of public accounts, called the reports "damning".
"It is the start of a new Parliament and the Department needs to urgently get a grip and wisely use the new money it's been given," she added.