Funding gap could be filled by land sales and private capital but extra Treasury cash also needed, review says
Trusts should not get central capital funding unless they have credible plan and hit new benchmarks
Review also calls for incentives including allowing STPs to retain sale receipts from locally owned assets
An increase of at least £10bn in capital funding is required to deliver proposals in sustainability and transformation plans and make NHS facilities fit for purpose, a major government review of the service's property and estates has concluded. 
However, the review by former University College London Hospitals Foundation Trust chief executive Sir Robert Naylor also claims the NHS can raise nearly £6bn itself by having a more "commercial approach" to selling land and buildings.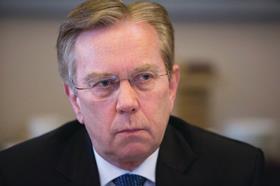 The review warned the £10bn new capital requirement estimate was based on "a conservative estimate of backlog maintenance at £5bn", so the real figure could be higher. It said "a similar sum" was "likely to be required to deliver the Five Year Forward View".
Sir Robert's review recommends tough new measures to address the NHS's capital shortage including that STPs and trusts should only be eligible for central capital funding if they have developed "sufficiently stretching plans".
Areas and trusts "should not be granted capital funding…until they have agreed plans to improve performance against [new] benchmarks [developed by this review]", the report said.
The review is clear that the NHS will not be able to address the capital shortage without central government support. "[The shortage] could be met by contributions from three sources: property disposals, private capital (for primary care) and from the Treasury."
Earlier this month chancelor Philip Hammond made the unusual step of committing to provide further capital funding for STPs in the autumn.
Sir Robert, appointed as the government's national adviser on NHS property and estates last year, also called for a range of new incentives to help trusts take a "great opportunity" to raise up to nearly £6bn by redeveloping and selling off parts of its estate – but trusts would need to take a far more "commercial approach".
The review recommended ministers "provide robust assurances to STPs that any sale receipts from locally owned assets will not be recovered centrally provided the disposal is in agreement with STP plans".
It added: "[The Treasury should] provide additional funding to incentivise land disposals through a "two for one offer" in which public funds match disposal receipts."
The review was launched last year and tasked to develop a strategy to deliver a Department of Health target to release £2bn of assets for reinvestment and to deliver land for 26,000 new homes.
As reported by HSJ last June, the review recommended NHS Property Services and the Community Health Partnerships should be scrapped and replaced by a new single oversight board.
The report published today said the new NHS Property Board "should be the primary voice to the system on estate matters" and "urgently bring together and expand the current strategic resources into a new national strategic planning and delivery unit to support local delivery".
The board should also produce improved guidance on estates planning and disposals for the NHS and improved guidance on building standards to support the forward view, it said.
It added: "STP estates plans and their delivery should be assessed against targets informed by the benchmarks developed for this review.
"STPs and their providers, which fail to develop sufficiently stretching plans, should not be granted access to capital funding either through grants, loans or private finance until they have agreed plans to improve performance against benchmarks."
Sir Robert told HSJ the board's role was not to override trusts but to support them in decision making and developing their strategies. Trusts would be the ultimate decision makers, not the new board. NHS Improvement should be the body to enforce standards, he said.
On the 26,000 new homes target, he added: "The NHS is one of the largest landlords in the UK with substantial opportunity to release spare land to build new homes.
"Our report over-achieves the target we were set to release £2bn of underused land and to build 26,000 new homes. We recommend that new affordable homes should be prioritised for NHS staff, particularly in areas of high cost housing."
The NHS Property Board should support this. "Urgent action" should also be taken to accelerate the delivery of a large number of small scale and low risk developments to deliver housing, the review said.
A Department of Health spokeswoman said: "We welcome Sir Robert Naylor's report and the opportunities it identifies for the NHS to make best use of its estate.
"This government is committed to improving the NHS estate. A new NHS property board is setting a clear strategy for maximising the estate's value, and the budget provided £325m of additional investment to start the transformation of NHS facilities so that they support the very best patient care and experience. We will fully consider all the recommendations in the report and respond later in the year."
Naylor review: NHS needs £10bn increase in capital funding
1

Currently reading

Naylor review: NHS needs £10bn increase in capital funding

2