NHS England today rejected a proposal that would have seen more than 100 clinical commissioning groups facing real-terms cuts next year so additional funds could be directed to their most underfunded peers.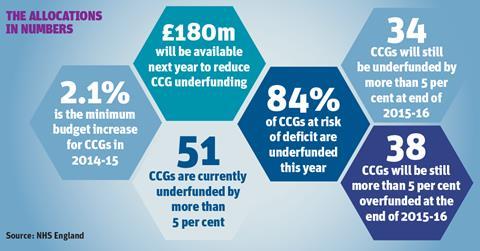 The allocations in numbers
The NHS England board instead approved plans to give all CCGs allocations that are at least flat in real terms for the next two financial years, with £180m available for above-inflation increases for the most underfunded CCGs in 2014-15.
The move came as the board approved a new formula for CCG allocations that will distribute 10 per cent of available funding according to a measure of "unmet need" for healthcare linked to deprivation.
The decision to introduce a weighting for unmet need in the formula is liable to reignite a debate on NHS allocations that has raged since the board rejected a previous CCG funding formula on grounds that it would have moved funds from areas with worse health to those with the best.
However, the bulk of discussion at NHS England's meeting − the first in history where NHS allocations have been decided in public − was focused on the speed at which CCGs should be moved from their current allocations to the "target" allocations derived from the formula. Two options were recommended to the board for consideration.
The approved option will see all commissioning groups receive funding increases of at least an inflation-matching 2.14 per cent in 2014-15, with the remaining £180m of the £64bn pot targeted at the most underfunded CCGs. This will see 77 CCGs receiving above-inflation increases next year.
A similar approach will be adopted in 2015-16, but with the minimum allocation set at 1.7 per cent, 0.2 per cent higher than the forecast rate of inflation for that year.
The maximum increase given to any CCG in 2014-15 will be 4.92 per cent; the following year it will be 4.49 per cent.
The board rejected the other option, which would have moved underfunded CCGs more rapidly towards target, but resulted in real-terms cuts for 112 commissioners in 2014-15 and 97 the following year.
There are currently 51 CCGs more than 5 per cent underfunded under the approved funding formula. The plan approved by NHS England will reduce that number by just 17 over two years, whereas the more radical proposal would have cut it by 33.
But the board concluded that imposing real-terms cuts on CCGs would have been too destabilising at a time when they will be facing substantial other pressures.
NHS England chair Sir Malcolm Grant said: "The question for us is how we balance what I actually consider quite a serious misallocation at the moment against the other duty in our mandate, which is the stabilisation of the system."
Paul Baumann, the body's chief financial officer, said 31 of the 37 CCGs at risk of deficit this year were underfunded according to the new formula, with more than half being underfunded by more than 5 per cent.
He added: "I make the point that underfunding has its consequences. There are a substantial and growing number of CCGs who are finding it impossible to live within their means and we will find it increasingly difficult to apply assurance to them, because their obvious riposte will be 'well, we've done everything we can but we are significantly underfunded'".
The new formula will use the under-75s' standardised mortality ratio as its measure of unmet need linked to deprivation, a change from the old primary care trust formula which used disability free life expectancy for this purpose. A board paper explained that the ratio was frequently updated and was available for small areas, allowing the formula to more precisely target "deprived communities within otherwise affluent areas".