League table to be published showing trusts' procurement performance
Jeremy Hunt says most trusts can make multimillion pound savings annually through better procurement
Data for table compiled through trusts' use of benchmarking tool
Hospitals have been publicly ranked on the prices they pay for routine goods in a new league table, Jeremy Hunt announced today.
The health secretary said at the NHS Providers conference this morning nearly every trust in England could make "multimillion pound savings" if they followed best procurement practices within the NHS.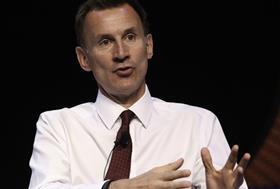 The table, which has been published by NHS Improvement, names Wrightington, Wigan, and Leigh and Bradford Teaching Hospitals foundation trusts among the top performers.
Mr Hunt said University College London Hospitals FT, Leeds Teaching Hospitals Trust, and Cambridge University FT could save "£10m or more from their annual budgets" by adopting best practice from other trusts.
He said the table includes each trust's savings opportunity. In a subsequent statement, the DH said the table could lead to annual savings of up to £300m.
The table will initially focus on acute trusts, but the DH aims to roll it out to other sectors.
Data for the table has been compiled through the Purchasing Price Index Benchmarking tool, which shows the variety of prices paid for products by trusts.
The tool, which was initially funded by the Department of Health, will be paid for by NHS Improvement and all trusts, however only half of providers have so far agreed to fund it.
Mr Hunt said: "We have been engaging on a huge exercise over the last four years where all of you have been extremely helpful and supportive to try and understand the prices we're paying in different parts of the NHS."
He added: "There is still baffling variation in the prices that hospitals are paying for supplies, with many paying over the odds for the same products sold more cheaply at a neighbouring trust."
He reiterated the belief that there are potential procurement savings of £1bn per year, and said the NHS is aiming to use its "purchasing weight" to get the lowest prices.
The new league table will be the second attempt to improve procurement benchmarking and transparency in the NHS, following the Atlas of Variation, which was first published in 2014. The atlas attracted criticism from procurement experts who said the data on purchasing was incomplete and flawed.
Mr Hunt also presented a graph drawn from internal estimates produced this autumn by NHS Improvement, which broke down estimated back office savings targeted by the centre.
The potential savings by 2020-21 were in:
procurement (£800m)
corporate services (£200m);
pathology (£200m);
medicines management (£800m);
estates and facilities management (£900m);
e-rostering and job planning (£1.4bn); and
Getting it Right First Time (£1.5bn).
Mr Hunt said the list could be described to the NHS as "ask not what your chancellor could do for you, but what you could do for your chancellor".
Article updated at 4.06pm after NHS Improvement published the table.
Tower winners revealed
The Department of Health also confirmed today the providers of six medical procurement "category towers", following a tender earlier this year, as part of changes to the way the NHS buys goods and services.
As HSJ reported last month, the NHS Collaborative Procurement Partnership has won three towers, while DHL Supply Chain has also won three – with one being run in partnership with Oxford Academic Health Science Network and private company Vizient, called Health Solutions Team.
The towers are:
NHS CPP: sterile interventions equipment and associated consumables; orthopaedics, trauma and spine, ophthalmology; rehabilitation disable services, women's health and associated consumables.
DHL Supply Chain: infection control wound care; ward based consumables.
Health Solutions Team: cardiovascular, radiology, audiology and pain management.