Trusts could see a significant reduction in penalty payments for breaching NHS targets in 2014-15, according to new analysis.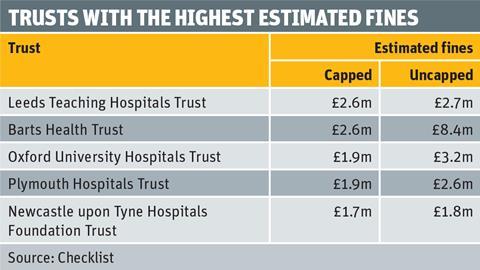 Trusts with the highest estimated fines
The study by software company Checklist calculated the potential size of this year's fines by applying the new system of penalties and caps to trusts' performance data for last year.
This showed that they would face less than £87m of fines in 2014-15 if the new rules and cap were applied. A similar study by Checklist in 2013 put the total penalties bill at £227m.
Checklist examined trust performance against targets for referral-to-treatment waits, 12 hour trolley waits, emergency admissions and cancelled operations, among others.
Trusts are likely to come under increasing pressure to hit performance targets in 2014-15. NHS England's planning guidance for this year urged clinical commissioning groups to enforce penalties against trusts.
Checklist's latest analysis could indicate that a £5,000 penalty for every patient waiting more than 52 weeks, which was introduced in April 2013, is beginning to take effect.
At the end of 2012 more than 1,000 patients had to wait more than 52 weeks for treatment after referral. By the end of 2013 this number had dropped to 317.
Anthony Thompson, a director at Checklist said the 52 week fine would have a "huge effect".
"If you're a chief executive that's a no-brainer to make sure that those patients do get treated.
"My sense is that the over 52 [weeks] waiter issue has largely gone away and the £5,000 fine has been quite effective."
Under the new rules trusts are fined on a per patient basis for breaching the referral to treatment targets, rather than on the percentage of patients that have waited over the 18 week mark.
A 2.5 per cent penalty cap on providers' total monthly revenue has also been introduced.
Checklist's analysis shows that this cap could significantly reduce the fines some trusts pay.
Barts Health Trust's estimated uncapped fine of £8.3m would be reduced to £2.6m.
The "capped total" across all providers would be £86.7m, compared with an uncapped total of £117.8m.
A spokeswoman for NHS England urged caution in comparing the two sets of figures.
"Arrangements for 2014-15 have been made clearer and simpler and, because of these changes, it is difficult to directly compare the two," she said.
"However, assuming there is no marked change in provider performance between the two years, our broad expectation is that overall sanctions imposed by commissioners will be no higher than in 2013-14 and, in some cases, providers that miss a standard by only a small margin in a particular period may face a lower sanction."
A spokesman from Leeds Teaching Hospitals Trust, which faces the highest levels of fines according to the analysis, said it had significantly cut its backlog of patients who had waited 18 weeks for treatment.
This was achieved "with support from the Trust Development Authority and the NHS Intensive Support Team", he added.
"We are on track to achieve the target, as agreed with the TDA, in June 2014.
"We have not had any patients waiting over 52 weeks for treatment since a single patient in September 2013, and we have significantly reduced our numbers of patients waiting over 40 weeks down to seven currently."